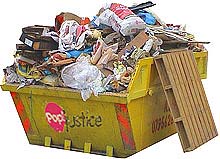 What has been going on in
the world of news?
» U2 have signed a twelve year contract with Live Nation. THAT MEANS TWELVE MORE YEARS OF U2. (The Telegraph)
» The winners of that mobile.Act Un>SigNed or however you're supposed to spell it are unhappy that the grand prize has turned out to be a bit ropey. (Drowned In Sound)
» Tahita from New Young Pony Club cannot swim. (The Independent)
» From the lineup, it looks like Reading and Leeds is going to be so far beyond terrible that laws will sub­sequently be passed to make all music illegal. (NME)
» In an exciting new twist on the concept of cap­it­al­ism, a company wants to pay less for something it buys so that it can make more money. The company is Tesco and the something it buys is CDs from record labels. (This Is Money)
» Celine Dion may have to cancel a concert because her voice has gone wonky. (China View)
Blimey.