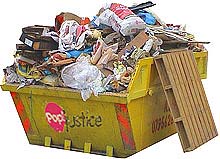 What has been going on in the world of news?
» Coldplay are giving away their new single for free as soon as it's played on the radio tomorrow. (Ananova)
» Alison Moyet has two hens. She is not taking respons­ib­il­ity for the cows next door, though — that is literally NOBODY'S DAIRY. (The Independent)
» She may suddenly be an expert
on physics, but Mariah has not yet mastered the tough art of stopping a
from skipping. (Yahoo
music)
» Michael Jackson has banned his kids from the
recording studio. (Music
News)

» Rufus Wainwright is doing an opera. (The Guardian)
» Mark Ronson has covered himself in slap for no
par­tic­u­lar reason. (The
Sun)
» Prince 'wowed' crowds at Coachella, then ruined it all by playing a
few dodgy covers (NME)
» And finally, Lena from tATu has issued a frank response to
alleg­a­tions that the band's comeback single is a bit crap. (Popdirt)
Blimey.