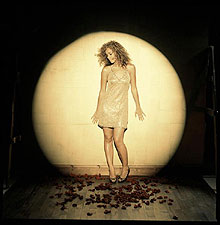 What have we learned? Mostly that Leona Lewis isn't getting on the country's col­lect­ive record-buying tits just yet, but anyway…

Number One: Is the Leona Lewis hysteria going to end anytime soon? We don't know — we're not fucking psychic.

Number Three: A second good week to be a member of Girls Aloud. 'Call The Shots' is their highest-charting single since 'I'll Stand By You' – one of the most disliked Girls Aloud singles of all time. Hopefully all future GA ballads will follow the 'Call The Shots' template, ie not be ballads at all.
Number 23: The DFS advert is offi­cially the most Christmassy advert on the TV this year and Mariah Carey's
'All I Want For Christmas Is You' is possibly the greatest Christmas song of all
time.
Number 39: Nobody can be bothered voting for Hope on X‑Factor but they can find the time to download Christina Aguilera songs they have howled in recent weeks. 'It's a funny old world.'
Number 36:
Here it comes, like a big dinosaur plodding up the charts. It's Christmas and Sugababes have released a slow song. Well done them.
Albums, Number Four: Kylie is being outsold by Leona Lewis and Shayne Ward. She needs to win a com­pet­i­tion quickly or she is in trouble. Perhaps she should go on 'Countdown'.
And that is what we have learned.