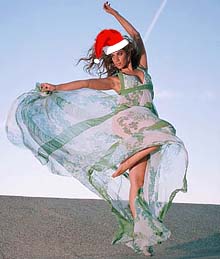 What have we learned?

Number One: Is that bloody woman ever going to clear off?

Number Three: Officially the most suc­cess­ful Girls Aloud single in a very long time and quite deservedly so: 'Call The Shots' is refusing to budge from the general vicinity of the top of the charts, unlike several previous releases which have been blown from their perches by very small gusts of wind.

Number Eight: We don't know if Leona Lewis is going to be Christmas Number One (probably) or whether it will be new the X‑Factor winner (probably as well) but we wouldn't rule Mariah Carey out of the running. We hope DFS are selling a lot of half-price leather sofas off the back of this song's popularity.

Number 12: A lot of people still do not own The Pogues & Kirsty MacColl's 'Fairytale In New York'. Or maybe they just throw their copies away every January.

Number 26: Here come the Sugababes – no doubt sales will leap as soon as their fancy USB singles land on the shelves next week. ('About You Now' is still in the Top 15…)
Somewhere outside the Top 40: Merry Christmas, Dannii Minogue.
Somewhere further outside the Top 40: Quite what 'Some Kinda Rush' is doing down here is beyond us, but we're sure Booty Luv will be propelled somewhere more impress­ive over the next few weeks. Oh, they played a gig in Russia over the weekend, you know. 'Some Kind Of Russia', if you will.
It is, as they say, 'all hotting up'.