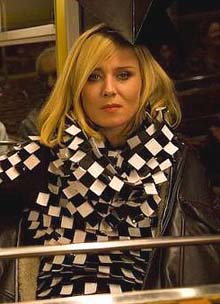 What have we learned?
Number One: Sugababes can keep their feet up for a little bit longer since they are Number One on the singles and albums chart. This is obviously very good news for all concerned and it is a good album so well done them.
Number Five: Everyone loves a bit of indie.
Number Nine: Perhaps Feist's '1234' isn't going to be a Number One single after all. What a pity.
Number 21: It's amazing that Freemasons have time on their hands to make their own songs when they are so busy doing things with Kylie, Beyonce, Kelly Rowland and a million other (mostly female) pop stars, but they will be glad that they found time to do 'Uninvited' because a lot of people like it.
Number 26: This is reminding us that we inter­viewed Samanda a few weeks ago. The general gist of it was that everything was going quite nicely for these two and in the grand scheme of things, a Number 26 isn't going to make them feel any less optim­istic about the rest of their lives.
Number 28: Roisin Murphy is probably unaware who on earth Samanda are but she will not be pleased when she finds out who they are and what it is which is out­selling her single. Amazingly, 'Let Me Know' is her first solo Top 40 hit. She has an album out this week and it is one of the best pop albums of the year. You can listen to it here. If you like.
Number 45: We have spent a good deal of time recently trying not to ever have to hear the Chico single 'Curvy Cola Bottle Body' and it would seem that we were right to do so – or at the very least, were not alone in this ambition.
Number 57: Rihanna has a lot of songs in the charts this week and only one is a ballad. All her old singles are still selling a lot better than 'Hate That I Love You', but we're sure this will change in the weeks to come.