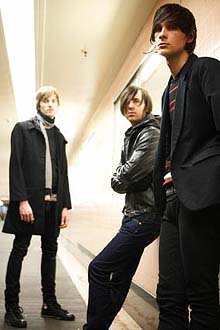 Cut Copy are both Australian and signed to Modular records. These alone are both reasons to suggest that they might be very good. However, Cut Copy would be good if they were neither of these things. We have a free download of their song 'Haunted' to give away to you.
Cut Copy fall very much into the enormous gulf which has been perceived to exist between The Feeling and McFly which seems to be calling for good looking boys playing guitars but at the same time making pop music which is exciting and has the sounds of rockets going off all over the place. See also Palladium and several other bands shuffling around the outskirts of the music world of various degrees of decency.
Actually, while we're on about 'these sorts of bands' what the hell is happening with The Click Five? It is almost certainly time for our bi-annual 'What the hell is happening with The Click Five' posts. Can someone please let us know. Thank you very much.
But anyway, Cut Copy. There is also a slight bit of Interpol happening in 'Haunted' which, as anyone who is aware of the work of Interpol will know, is as much as anyone needs.
We think you will like it a lot. Mainly because we like it a lot and we would like to point out that we have never been wrong before on things like this.