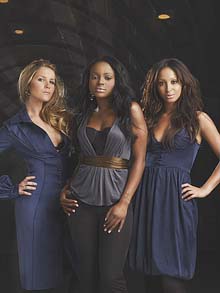 What have we learned?
Number One: This is all going very well for the Sugababes. Two of them were very poorly last week (we diagnose 'disco flu') when we were due to interview them but we hope they are feeling better now.
Number Two: Proof that there will always be room in the charts for somebody versus Fedde Le Grand. In this instance, it's
Ida Corr vs Fedde Le Grand. This is what Fedde Le Grand looks like, FYI.
Number Seven: Everyone loves a bit of trombone. Except Amy Winehouse, who wasn't at the 'Valerie' video shoot with Mark Ronson, meaning that lots of other women had to pretend to be Amy. It's all very confusing. Here is the video.
Number Eight: Feist's '1234' 'continues to climb', thanks to the iPod ad (boo) instead of the VanShe remix (hurrah).
Number 23: Don't worry, Kate Nash is an albums artist.
Number 33: The power of Disney is unstop­pable, hence it hurling a pair of nutters like Aly & AJ into the pop charts.
That was the news.