[audio:danniitouch.mp3]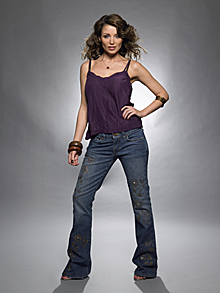 We're a few days late on this but no matter: the new Dannii Minogue single is HOTTER THAN HELL.
It is produced by Jason Nevins and might in fact the 'Jason Nevins featuring…' but we will refer to it from here on in as The New Dannii Minogue Single because she will be traipsing about singing it at Butlin's and doing all the hard work so it's only fair that she should get some credit.
What you will hear in the song:
1. A massive sample from Sylvester's '(You Make Me Feel) Mighty Real'. A bit like that brilliant Eyes Cream single from a few years ago but with some chance of becoming a hit.
2. A brilliant BANG BANG BANG BANG noise as it goes into the chorus.
3. The distant sound of stock­mar­kets going into meltdown as traders des­per­ately scream 'BUY AMYL! BUY AMYL!!' at each other.
4. Booty Luv being a bit annoyed that this isn't on their album.
5. Dannii Minogue chuckling happily to herself at the real­isa­tion that she is on the verge of having a really really big hit single.
Anyway, it's today's Song Of The Day for various fairly obvious reasons.
UPDATE: This is from the horse's mouth (NB: Dannii is not a horse) — it's offi­cially 'Dannii Minogue vs Jason Nevins'.