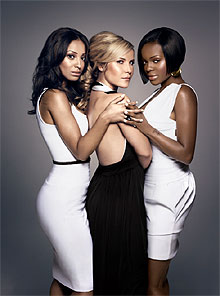 What have we learned?
Number One: If there had been some sort of chart battle between Girls Aloud and Sugababes over their recent singles, Sugababes would have won round one hands down.
Number Two: Shayne Ward is still very popular.
Number 16: Everyone involved with the whole Feist project must be breathing a sigh of relief this week, with '1234' clawing its way into the top twenty three months after the single was released. Coincidentally it is used in the new iPod ads.
Number 19: 'With Every Heartbeat' by Robyn is making a very welcome slide down towards the bottom of the charts. This is good because it means that the path will be cleared nicely for 'Handle Me' to make Number One (hem hem).
Number 42: Gabrielle's comeback has gone tits up although we are sure she is really an albums artist etc etc etc.
Number 48: It's all gone to the dogs for Leann Rimes as well.
Number 71: The same applies to Lil' Chris.