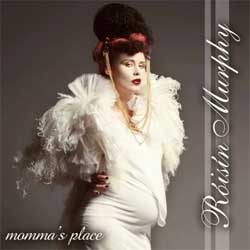 One of the great things about being an inde­pend­ent (or unsigned) artist like Roisin Murphy is that you can release what you want, when you want.
You don't have to worry about whether it's finished, or whether it's good enough, or what anyone else might think about whether it's appealing enough for radio play, or whether the typo­graphy on the sleeve is horrible. That's how you end up with rough and ready, demo stage pop releases like Roisin's last single 'Orally Fixated' and the newly-unleashed track 'Momma's Place'.
On hearing tracks like these most major label A&Rs would interfere by wading in and trying to help the tracks 'reach their potential' with better pro­duc­tion, more coherant structure or stronger melodies, but what's refresh­ing about Murphy's campaign is that it exists outside that world, as part of a totally different mindset where snapshots of Roisin's cre­ativ­ity are more important than pleasing other people.
Readers, we'll come clean, we've totally lost track of whether we're being sarcastic or not. It is great that Roisin can chuck out stuff like this, and it's important that the clarity of her 'vision' is not lost, but when you listen to something like 'Momma's Place' don't you also feel that there's unful­filled potential?
httpv://www.youtube.com/watch?v=zHLC4sXm8VI

It's kind of really good, but you just want to hear the finished version. It is what it is, we suppose.