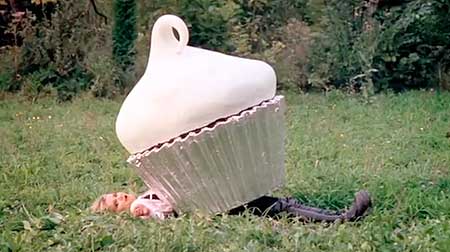 Ladies and gentlemen: a pop starlet under­neath a massive cupcake.
The starlet in question is Daisy Dares You and the image comes from the video to 'Number One Enemy', which we first featured as a Popjustice Song Of The Day last March. Daisy sub­sequently signed to RCA and 'Number One Enemy', now with a ropey but diverting rap from Chipmunk, is the first single, out in February.
Here's the full video which seems to feature Daisy drinking a bottle of piss.
httpv://www.youtube.com/watch?v=SlU5Qk9w0u4

The coloured sheep are quite good as well, aren't they.