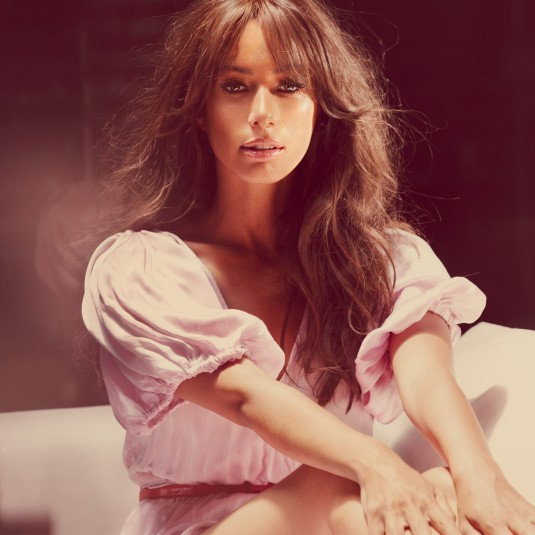 We had a listen to the rather epic Leona Lewis (feat Childish Gambino) single 'Trouble' earlier.
Actually we first heard it a lot earlier, because there was a version of the song knocking around when we heard 'Collide' over a year ago, and it instantly seemed like the sort of song that could find itself at the centre of the whole album campaign once the fun but flighty 'Collide' was out of the way.
Obviously the whole 'Collide' thing turned into a bit of a shitshow what with the Avicii business, meaning that the Leona funbus had to pull onto the hard shoulder while she looked at the map for a bit. After an odd EP of covers (if Leona Lewis appears on The X Factor without a product to sell, does the choir really make a sound?) we're back where we would have been anyway, with all eyes on 'Trouble'.
The final, beefed-up version seems to have retained the gloom-laden but beguiling feel of the track we first heard last year. The lyrics to this Emeli Sandé-penned tune involve Leona telling her partner that she's bad news and has been all along: "I told you never to get used to me, I stay awake when you fall asleep, I'm a whole lot of trouble, we're in a whole lot of trouble."
It's usually difficult to imagine Leona Lewis being prob­lem­atic when it comes to anything other than using up too much printer ink when printing out horse pho­to­graphs off the internet, but this is a con­vin­cing, com­pel­ling and dramatic vocal per­form­ance which works bril­liantly against the song's opulent but bleak mid-tempo pro­duc­tion. (It's not too much of a stretch to imagine that 'Unfinished Sympathy' was probably one of various reference points along the way.)
Some people will probably be quite excited about Childish Gambino being on the track. It's a good guest spot ("we were something together I wouldn't call it team", "big trouble and little kindness", "I fell in love with the wrong dream" etc etc) but the fact that there's a guest spot at all feels like someone, somewhere lacks the con­fid­ence in Leona Lewis being able to pull off a single by herself. Perhaps after 'Collide' they're right. It's probably, like most things in most songs by most people, just an attempt to get the song on the radio. Either way, and despite the feeling that it slightly dilutes Leona's big comeback, the rap in the middle eight sounds great so at the end of the day music is the real winner here.
Ultimately 'Trouble' feels like the right song for where Leona is right now. It's out on October 7 with the album to follow a week later, but you'll be able to hear 'Trouble' next Tuesday because that's when it gets its radio premiere.