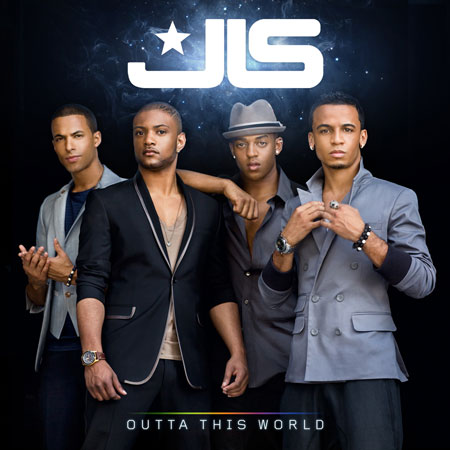 And by 'career high' we mean it's better than the first album, but we would like to make it abso­lutely clear that we do not consider the band's first album to be bad per se. Basically the first JLS album was pretty good and this one's a lot better. It is, at the same time, exactly what you'd expect it to be.
Here's a quick runthrough in a track-by-trackular fashion.
1. The Club Is Alive
This is the first single. You have heard this one already. You've heard it many, many times.

2. Eyes Wide Shut
This comes with a bit of a dodgy Calvin Harris-esque 'I'm Not Alone' riff in it, although they were working with Calvin at one stage so perhaps this is the result of that. It is a song about not wanting to wake up and "sleeping with my eyes wide shut". There is an invit­a­tion to put one's hands up and say yeah, which is nice. Such invit­a­tions are too rare in the modern pop song — and this comes so soon after the boundary breaking 'club' ref­er­ences in 'The Club Is Alive'. Whatever next? A song in which JLS confirm that they will catch us if we fall?
3. Outta This World
Rhymes 'trance' with 'dance' and 'eyes' with 'mes­mer­ised'. (Amazing.) There is also an amazing Jacko-esque 'wooh!' in what turns out to be a bit of a Neyo-esque effort with further added Calvinisms. It's about looking for a lady and there is a portion where a variety of locations are suggested: "London, Paris, LA, Chicago, Venus, Mars or Saturn or Pluto". The pos­sib­il­ity that she is 'on the floor' is not con­sidered, although that is probably where she is, at the club mentioned in Track One. That, we think it should by now be clear to all readers, is where Honeys are most regularly located.
4. That's My Girl
This is a bit like a quite good Sean Kingston song. The chorus goes like this: "that's my girl that's my girl that's my girl that's my girl she's the baddest thing I've seen in the world," and then to make it scan properly they add a "you know".
5. Work
There is some musing about a JLS member being "a soldier", followed by the invit­a­tion to "tell me what you want, tell me what you need, I'll be at attention". By this we think they are sug­gest­ing that one of more of JLS will be in the pos­ses­sion of a penis in tumescent state. Perhaps this is clever marketing for the condom range. There is a "shake it, shake it, shake it" bit that is an homage to (total ripoff of) 'Rude Boy'.

6. I Know What She Like
This is more downtempo than a midtempo but more uptempo than a ballad. It's about JLS knowing everything about their woman. "I know what you want, I know what you like." That's how the chorus goes. There is a lot of stuff about how she doesn't want a diamond etc. "She likes a kiss in the morning, a call when she's lonely," appar­ently. Then the killer lyric: "she likes a walk on a beach on a sunny day, a nice hot drink in a small cafe". Anybody reading this who has ever fallen for the "oh let's not do presents this year" lie will already be concerned that JLS are in for a big argument on December 25.

7. Love You More
Amazing but dis­ap­point­ingly under­blown ballad.
8. Other Side Of The World
Another ballad. It's a song about going somewhere. "Now my taxi is waiting," sing JLS. "Told my friends not to come, got my suitcase my ticket and tomorrow you know I'll be gone to the other side of the world." In terms of songs about Australia, Men At Work's 'Down Under' is 500 times better, but this is better than 'Australia' by the Manic Street Preachers.
9. Better For You
After a number of lowish tempo songs 'Better For You' comes not, as they say, a moment too soon. The song includes a few will-this-do space­filler lyrics like "what can I say what can I do" but the explosion into the chorus is almost 'Firework'-esque and lends itself to what we hope will be a not-very-butch fin­ger­pointy dance routine. It's a song in which JLS promise to show us how good we are and take us where we need to be. Regarding the latter we need to be at Victoria Station for about half four cheers thanks.
10. Superhero
Starts off with a robot voice. Not an Auto-Tune voice, a proper robot one. A midtempo banger and pretty much com­pletely amazing. It's about JLS being brilliant at the whole being-a-boyfriend thing. "I can be a superhero, moving at the speed of light, I can stop the time," and so on. Warning: song contains reference to 'the club' and dodgy fade at end.
11. Love At War
Filler.

12. Don't Talk About Love
This is a song that will not change the world but WILL provide some enjoyable listening on a Tuesday afternoon sometime in 2013 when, unher­al­ded, it pops up on an iTunes playlist and reminds you of that happy time before Marvin quit the band to start up a husband/wife duo with Rochelle. By this point on the LP it feels slightly as if we are into end-of-album no man's land but perhaps 'That's Where I'm Coming From' will turn everything around.
13. That's Where I'm Coming From
Within thirty seconds this has estab­lished itself as 'Apologise' meets 'Battlefield'. About thirty seconds later it has revealed itself to be not quite as good as either, but it does contains some good "oh-oh, oh-oh" bits.
14. The Last Song
The album ends where it began: in 'the club' with 'the DJ'. By now JLS are so pissed (or, as they put it, so "dizzy") that they have allowed 'the DJ' to take on the role of some sort of quasi-religious fig­ure­head and/or agony aunt with all the answers to life's highs and lows. "DJ help me out cos I'm so confused," they sing at one point. The chorus, meanwhile, sheds light on the pre­dic­a­ment: "hey Mr DJ, I'm feeling dizzy, what am I gonna do when the last song's over? Sorry Mr DJ, I know you're busy, what'm I gonna do 'cos I can't let go of her". We think you've had enough, JLS. Go home and drink a pint of water.