There could be many reasons for this but to con­cen­trate on radio let's see if Compare My Radio (ie the world's greatest website) can shed any light.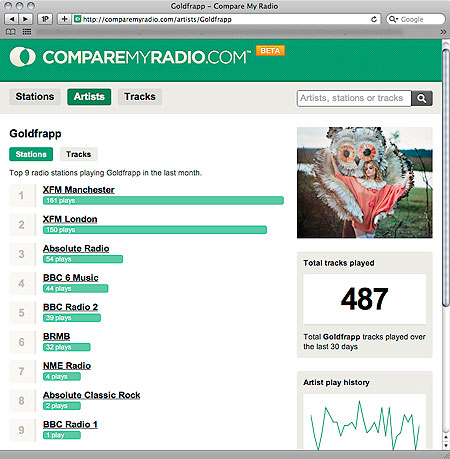 Radio 1 played this song ONCE — and that was the Penguin Prison mix. We're not saying 'Rocket' is the greatest song in the world (although
it clearly is) and we're not saying Radio 1 should have put it straight
on their playlist (it's clearly not as appealing to their young
demo­graphic as, er, Mumford & Sons), but one play seems a little severe. Still, things like this happen all the time and Radio 1 'not feeling' the track isn't really what we're here today to discuss.
The thing is, Goldfrapp sprang imme­di­ately to mind when the proposed changes to BBC radio were unveiled the other week. The band have always been slightly difficult to pin down in terms of genre and fanbase and appeal, but Radio 2 and 6 Music probably work quite well for the band in some respects. So imagine what the above figures would look like under the proposed regime, with no 6 Music, with Radio 1 aligning itself more closely with 1Xtra and with Radio 2 searching for listeners over 65.
It's not just Goldfrapp who'll find them­selves edged out: if the proposed restruc­ture goes ahead plenty of acts simply won't get their records played on BBC radio.
OH WELL.