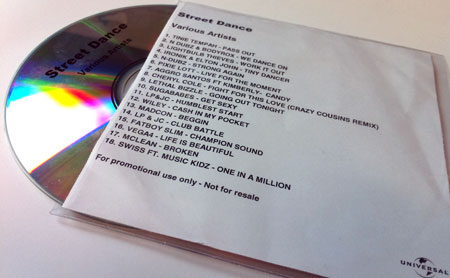 Released: Nine weeks ago
Best song: Tinie Tempah — 'Pass Out'
Worst song: We'll get to that in a minute

We had this on in the car over the weekend in the hope that a blast of eg Cheryl Cole's 'Fight For This Love' (Crazy Cousins mix) would make us appear more 'cool' and 'urban' and 'not the sort of person who gets laughed at in Halfords'.

WE WERE VERY DISAPPOINTED WITH THE OUTCOME.

There was, however, a treat towards the end of the album in the shape of Vega 4's 'Life Is Beautiful'. It's not a very new song, but we hadn't heard it before and we think it might be the worst piece of music we have ever heard.

[youtube]KVrwcG3PV1w[/youtube] Only in our wildest night­mares will we ever be able to guess what heavy-handed, trite 'n' pathetic 'sensitive' scene this soundtracked in Street Dance. And the length! It's so long.
It goes on forever, like death.