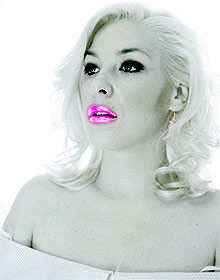 Whatever happened to the very good elec­tronic popular music combo The Modern? Well, they don't exist any more, and have changed their name to Matinee Club, for a start. But you probably already know that. Now they're back (again) with a dif­fer­ence lineup (again) with a new label (again) and there is a distinct pos­sib­il­ity that their album will actually come out this time.
Let's get Emma from the band on the phone for a catch-up.

You are speaking to us because you have got a new deal. What, how and why?
"Last year we got picked up by a small label, Planet Clique, to release 'Discotheque Francais'. Only a limited release but it got enough attention from Europa at Universal to sign us. So here we are, again."
You were on Mercury at one point and then one day you weren't. What did you learn?
"I learned not to take any of it too seriously. We all worked really hard with The Modern and that did not make the old label support us any more. Sometimes you just have to trust in yourself, stick to your guns and enjoy it while it lasts."
We first saw you play in 2001. Maybe even 2000? We were all a lot younger, anyway. Can you provide a brief rundown of what's happened since then?

"God, 2001! Didn't we have a gimp then? I did not join the band until 2003, so I guess that makes me less sad than Nathan and Chi. Back then they were called Dirty Blonde. In 2003 we all formed The Modern. We played at Flithy MacNasty's every alternate week to The Libertines and released an EP on our own label Pie'n'Mash record­ings. It was named in honour of my Dad's shop in Hackney. Eddie Temple-Morris really liked Suburban Culture and started playing it also we were doing a lot of gigs at fun nights like Club Kinki. This caught the attention of the majors. Universal Digital offered us a download only deal, which led to getting a five album deal with Mercury. So — major deal, the Holy Grail. We all quit college, jobs, boyfriend, girl­friends, whatever. New boss comes into Mercury, dumps us telling our A&R he wants to only have rock bands on his label. Nathan gets a job in telesales and Chi in a spray factory. Planet Clique release limited edition single, Discotheque Francais. Europa at Universal take an interest and sign us. Universal International sign us in France, Sweden and Italy. Now here I am talking to you."
What's the 2007 lineup?
"No drummer, no guitarist, just Nathan, Chi and I. A happy threesome."

Is it going to happen this time, and what do you perceive 'happen' to mean?

"Well to "happen" for us was always getting on the cover of Smash Hits, having a Top of the Pops appear­ance and being booked for a John Peel session. So I guess we're fucked…"

Do you have a message for fans of popular music?
"We're back baby! Catch us quick before we crash and burn, again…"
So there you go. 'Discotheque Francais' is out in Italy (!), France (!!) and Sweden (!!!) next month and in the UK in September.
You can have a look at the new website at www.matineeclub.co.uk/preview.