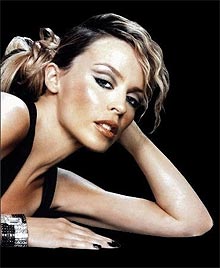 We don't really approve of leaked tracks flying around the web before an album's even been completed but in the case of Kylie Minogue the constant, relent­less barrage of leaked material almost makes it seem as if Someone Up There want us to hear it all.
After 'Excuse My French' and 'When The Cat's Away' a few weeks ago we now have 'Lose Control', 'In My Arms', 'Stars', 'Sensitized', 'Fall For You' and 'I'm Sorry' knocking around the web. Add to that 'Loving You' from a year or two ago and you have one of the albums of the year. As we mentioned the other week these tracks — and these are only the ones which have leaked so far — could probably launch a brand new pop act. They could also probably sit around gathering dust.
When we wondered out loud a couple of years ago — in relation to 'Made Of Glass' and 'Loving You' both mys­ter­i­ously appearing online — whether leaking the tracks was a delib­er­ate spoiler tactic from someone in Kylie's camp, stamping Kylie's name on songs she wouldn't even use, ensuring other artists didn't use these great songs for fear of being accused of using 'soiled goods', Parlophone said it certainly wasn't happening in their building. But as with previous Kylie leaks over the last few years, the tracks are from different sessions with different producers and different song­writers, meaning — pre­sum­ably — that whoever is leaking the songs must be doing so from a priv­ileged position within Kylie HQ.
Anyway, a couple of the songs are fucking — and by fucking, we mean FUCKING — brilliant. 'In My Arms' is probably pick of the bunch.