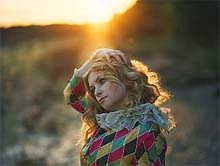 To your right you will see a new picture of Alison Goldfrapp. Her of the band Goldfrapp, in case you didn't know. HENCE THE NAME.
As you can see she looks suitably thrilled about the prospect of releasing her new album.
Ah yes, there is a new Goldfrapp album on its way. Hence the existence of new photos and some inform­a­tion on the content of the new album, which is called 'Seventh Tree'.
Described as 'the sensual coun­ter­point' to 'Supernature', the press release we are basing this story on goes on to mention it sounding like John Lennon and with 'the warmth of a hazy British summer'.
Someone we were speaking to recently described it thus:
"It's a folk record."
We shall have to wait until the end of February to find our for ourselves – unless we are allowed to listen to it sooner. We have a feeling that whether we are allowed to listen to it or not will probably depend on whether it is the sort of thing we are likely to like.
Actually let's just have a look at the whole press release.
BRAND
NEW ALBUM: "SEVENTH
TREE"
RELEASED ON MUTE
FEBRUARY 25th
2008
'Goldfrapp have delivered one of the
first great albums of 2008'
Music Week 29th October
Genre-busting pop pioneers
GOLDFRAPP release their fourth album, 'Seventh Tree' through Mute
on February 25th
2008.
'Seventh Tree' is written by Alison Goldfrapp and Will Gregory and was
recorded at their own studio deep in the English
countryside.
'Seventh
Tree' follows up
the platinum-selling and crit­ic­ally acclaimed 'Supernature' album
which came out in summer 2005 and went on to sell over a million
copies worldwide. From the cap­tiv­at­ing elec­tronic balladry of Mercury
nominated debut 'Felt Mountain' and its dancefloor-burlesque
follow-up, 'Black Cherry', Goldfrapp have consistently
surprised and delighted with each new album, adeptly bodyswerving both
ste­reo­types and imitators alike.
If 'Supernature' was airbrushed
in bold strokes of glit­ter­ball glamour, 'Seventh Tree' is its
sensual coun­ter­point. Where its pre­de­cessor came cocooned in style and
sex, 'Seventh Tree' emerges gilded in the butterfly colours of an
English sur­real­ism shared from Lear to Lennon. It shimmers and shines with
the warmth of a hazy summer, an electric whirlpool of sound over which Alison's
glisten­ing voice soars.
Alison Goldfrapp says "Seventh Tree is English
roman­ti­cism with a hint of California sunshine." while Will Gregory
describes the album as "Heartache
dressed in ten louche outfits'.
Goldfrapp
are widely
acknow­ledged as modern musical treasures – amongst their most creative and
ima­gin­at­ive con­tem­por­ar­ies they present albums, live shows and imagery in a
self-created, ambitious and con­sist­ently uncom­prom­ising way. Alison
Goldfrapp has become a modern-day British icon, providing musical and
visual inspir­a­tion for countless other artists.
Goldfrapp also have a very real beating heart
–and it is this rhythm that rever­ber­ates through­out the new set of powerful
songs on 'Seventh Tree'.
For further inform­a­tion please
contact…
Blah blah blah…
We'll tell you what, viewers — this 'copying and pasting emails from PRs' business is a fucking piece of piss. We shall be doing it more often.