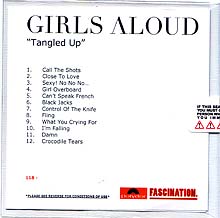 1. This is the sleeve for the promo –>
2. 'Girl Overboard' is a massive Euro rave-up extra­vag­anza and should be a single unless there is a tragic event involving a girl falling off a boat or maybe if there is some sort of real-life version of the hilarious Goldie Hawn film 'Overboard' in which Goldie Hawn actually died instead of just amusingly lost her memory because then Radio One wouldn't play it due to 'concerns over the public mood etc'.
3. Every time it's been on in the office 'Sexy! No No No…' has been mer­ci­lessly skipped and after we'd finished listening to it the first time there was literally an argument over which song we'd listen to again first.
4. 'Fling' is sort of like 'Wake Me Up' from the year 2012.
5. There are NO BALLADS and NO COVERS.
6. "I can't speak French, so I let the funky music do the talking, talking now." That is a good lyric.
7. We've listened to it 180 times and it's only been in the office since 9am.
8. It's the best Girls Aloud album of all time and is better than the Sugababes, Kylie and Britney albums although we've just done a review for someone giving the Britney album 5/5 so we suppose that probably makes 'Tangled Up' a 6/5 album. Which our cal­cu­lator tells us is 1.2. Which is 120%. "They've really given it 120%" etc etc.
9. It's out at some point in November and would make the ideal Christmas present for someone who likes amazing pop music.
10. There you go.