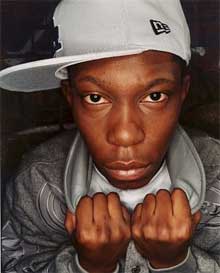 The new Dizzee Rascal single is produced by (and features) Calvin Harris so we're allowed to write about it.
The song's called 'Dance Wiv Me', it's very very good in a different
way to how Dizzee's other stuff is very very good, and we keep hearing
it when we're in elec­tron­ics shops.
The elec­tron­ics shops factor is a good sign — the last song we remember
hearing this fre­quently while in Currys Digital was Shanks &
Bigfoot's 'Sweet Like Chocolate' — and that was a massive hit, so
'Dance Wiv Me' could be Dizzee's biggest hit since 'Do They Know It's
Christmas?'. Although Currys Digital was called Dixons in those days,
so the goalposts have shifted slightly.
httpv://www.youtube.com/watch?v=GibLntdLiJA

Nice Sophie Ellis-Bextor reference.