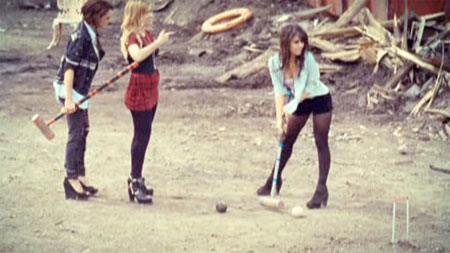 One wonders if there was ANY point during the com­mis­sion­ing process for Girls Can't Catch's debut video when anybody thought, if only to them­selves, "do you know what, it's important that we launch this band with a strong visual image but a croquet match on a rubbish dump against three extras from a 1993 episode of Grange Hill in which a local 'street gang' ter­ror­ises members of Year 7 might be slightly peculiar".
To recap those two main points:
1. Croquet match.
2. Rubbish dump.
When you sort of relax into the viewing exper­i­ence and somehow manage to forget that this video depicts something that never happens in real life and will never, ever again happen in a music video — then attempts to present it as something bordering on aspir­a­tional — it's actually all quite enjoyable. It's actually probably quite clever, in some respects. But it is still a video featuring croquet on a rubbish dump. You can say what you like about this video, reimagine it through countless levels of post­mod­ern detach­ment, dress it up as something else and put a bow on top of it, but you will never be able to get away from the fact it is a music video in which three young women play croquet on a rubbish dump.
Click the links to watch the 'Keep Your Head Up' video.
http://del.interoute.com/?id=d703fda3-bafb-4f1e-81dd-b1809d3c3573&delivery=stream
Let's just go over that again:
1. Croquet.
2. Rubbish dump.
Amazing. Every time you say it, it just gets slightly more stupendous.
1. Croquet.
2. Rubbish dump.
Awesome. It's 2009 and a major record label is launching a girlgroup with a video featuring croquet on a rubbish dump. This is a bit like in films like 'Back To The Future 2' when they attempt to imagine what youth trends will be like in a few decades' time, and they come up with things like 'clothes being worn inside out'. "What will girl­groups be like in the year 2019?" "Well there'll obviously be some sort of post-indus­trial wasteland." "How about croquet on a rubbish dump?" "DONE."
1. Croquet.
2. Rubbish dump.
Our favourite bits have to be the 'acting' — when Girls Can't Catch and the Grange Hill extras are playing against each other and the girls are winning and the boys are losing and being all very upset about it. 'What's my motiv­a­tion?' 'Well, imagine you're playing croquet on a rubbish dump…' And you think about these poor male models or actors or whatever they're claiming to be and you think about them going home to their girl­friends and talking about their day and the girl­friend says, 'so how was the video shoot? What did you have to do?'. And the male model Grange Hill extra man says, 'well, it was a girlgroup, a new girlgroup actually, they're called Girls Can't Catch'. And the girl­friend goes, 'that's not a very good name for a girlgroup', and the male model says, 'well, it's alright — I mean you'll get used to it'. And the girl­friend says, 'yes I suppose I will. What was the theme of the video shoot, then?'. And the male model pauses for a bit, then says, 'so, what's for dinner?'.
1. Croquet.
2. Rubbish dump.
People will still be talking about this video in five years' time. Legendary.