You might not guess it from the current ad campaign featuring Woolly the sheep — surely the biggest cunt on tele­vi­sion — but Woolworths is the greatest high street music shop of all time.
We bought our first ever pop singles in Woolworths in East Grinstead. The music section was amazing, with HUGE displays of singles and albums every­where. NB: It did not just seem huge because we were small and the music formats were big, it was literally whole WALLS of POP.
We were in Woolworths in Balham — a bigger branch than the East Grinstead one — yesterday and we saw THIS.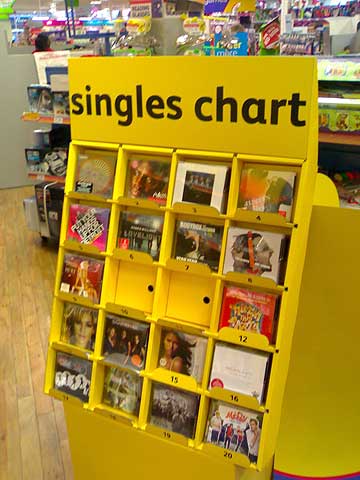 Don't put yourselves out, Woolies.
Is that what the singles chart is worth? No wonder nobody is inter­ested in the Top '40' if the whole thing is simply chucked into a dis­pos­able piece of cardboard shit like the one you see above.
It'll be counter displays of the Top 3 by next Christmas, we can tell you that right now. Woolies may even use the impending chart apo­ca­lypse (at the start of next year, when the chart rules change again) as an excuse to bin off physical singles completely.
"But you'll be able to buy singles online!"
Well, yes. But the days of the impulse purchase — chancing upon that track you heard on the radio when you're looking for envelopes and a new toilet brush — will be over. And impulse purchases were always the best bit of buying pop. :(
(Yes, we know, calm down grandad, etc etc.)