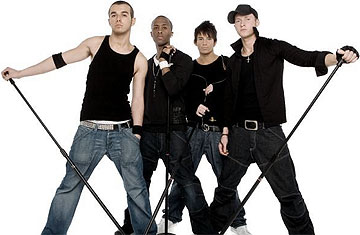 As Remembrance Sunday approaches, thoughts turn to those who have been loved and lost. On Remembrance Sunday, and on Armistice Day, we will wear poppies as a small but sig­ni­fic­ant gesture towards those who gave their lives, and towards those who continue to put their lives on the line. Today, however, is not a Poppy Day. This is a pop-free day. This is the day pop stopped. Today, readers, we remember those who fell in the Hapless Boyband War of 2008. Today we remember Billiam: the band, the vision, the dream, and, tra­gic­ally, the reality of a band cut down in their prime.
WE WILL NOT FORGET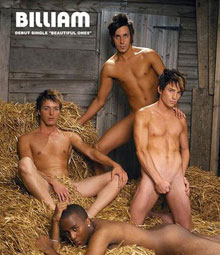 With their tawdry approx­im­a­tion of an outmoded and deeply unwanted boyband style, Billiam have touched as all. But nothing lasts forever. From their MySpace:
"IN THE TIME WE WERE TOGETHER, BILLIAM ACHIEVED MORE THAN MOST NEW
INDEPENDENT BANDS, IN FACT MORE THAN ANY NEW BOYBAND WITH ANY LABEL!
HOWEVER, ALL GOOD THINGS MUST COME TO AN END AND SADLY THIS IS NOW THE
CASE."
In choosing to go out while they are at the top the band have ensured that their legacy will last for many gen­er­a­tions, but this is little comfort to those of us who, in the here and now, must deal with the full effect of the sorrow and loss.
WE WILL NOT FORGET
As the tributes filter through in the media over the coming hours, days and weeks, many com­ment­at­ors will undoubtedly claim that they can remember where they were when they first heard a Billiam record. They will fight over each other with stories of that time they didn't see Billiam on the cover of Smash Hits, or that time they didn't see Billiam on Top Of The Pops. They will endlessly unravel the memories of that time they missed Billiam sup­port­ing Girls Aloud because they were at the bar.
But we, the true Billiam fans, will know better. We know that these pithy tributes will all be mean­ing­less. We know that it is impossible to pinpoint the precise moment Billiam entered our lives, and the reason for this is that Billiam seem to have been inside our souls forever. Like air, Billiam have simply been around us, in our lives, for all time. Attempting to define the moment Billiam first touched your soul is like trying to remember the first time you drew breath.
WE WILL NOT FORGET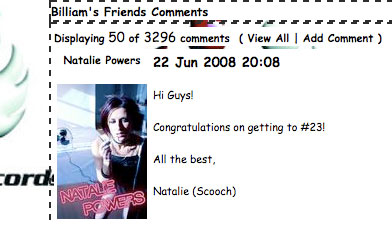 There is some comfort, perhaps, in the news that some of the band's members have now gone on to form a band called Kaos Theory. To those of you unfa­mil­iar with the term, Chaos Theory is based around the idea that if a butterfly flaps its wings in China, a tragic and doomed shitshow of a boyband will find them­selves booked for a medicore five-song public appear­ance at a terrible gay club in Romford. We wish Kaos Theory well, but we know — as they must know, deep in their hearts — that there will never be another Billiam.
WE WILL NOT FORGET
Dealing with this loss will be difficult for all of us but if we stay together and stay strong we can get through it. Perhaps we can take some comfort in the knowledge that while Billiam may no longer be with us, we will always have the music.
httpv://www.youtube.com/watch?v=NODFPMvGqAE


Send us your tributes:
[email protected]
Useful links:

The Samaritans
Find a coun­sel­lor near you
The Stage