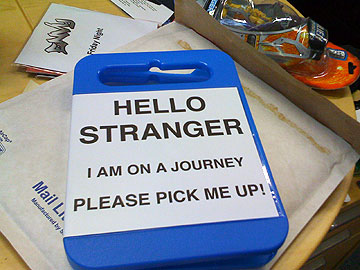 Here's something which is, if nothing else, a cute little idea: a CD in
what appears to be a sort of lunchox (amazing), designed to be left around in
public places in a real-life 'FWD' situation.
Here's what it says on the back of the box:
"I am one of 30 CDs which are on a journey around the world. I am CD
number [10]. Take me home, listen to me, and then pass me on so I may
continue my travels. You could send me to a friend on the other side of
the world or leave me out in public so that someone else may find me.
You can let people know I'm safe, find out where I've been and let
others know where I'm going by visiting hellostranger.gwonder.com."
It's a bit like the internet never happened and of course the chances of it all taking off and becoming a Proper Social Phenomenon are incred­ibly slim, mainly because the music on the CD is so good that you don't really want to give it away. The band respons­ible for the CD are Georgia Wonder, who were also behind this very good song…
httpv://www.youtube.com/watch?v=VkNx3_LboDA

…which we have of course mentioned once or twice before. That track aside, the
duo's other songs (par­tic­u­larly this EP's title track 'Hello Stranger',
and another song called 'Would Love To Meet') are really lovely country pop to file alonside 'Long Gone Before Daylight'-era Cardigans.