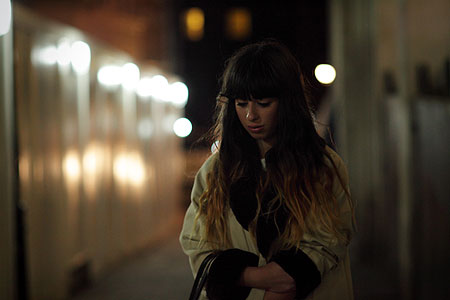 'Here at Popjustice' we are suckers for new lady popstars who don't like looking at cameras so Foxes is right up our street. Up our street, EMPTYING THE BINS.
We first came across her a while ago because a couple of the people we do Popjustice Hi-Fi with were working with her, so it is good to see that Things Are Now Happening with a Neon Gold single on the horizon and a few people chitchat­ter­ing about her online.
Some points worth noting:
» Her actual name is Louisa Rose Allen (so we'll stick with Foxes then)
» She's 22 which is neither too old nor too young
» She is not a duo even though a thing on The Guardian said she was
» She is a bit like Marina but we are not sure if she has been to America yet so it remains to be seen whether she has any inter­est­ing thoughts on what it might be like to pay for things in dollars, miss out the letter 'u' from words and so on
» She has cancelled tomorrow night's pop concert because she is a bit ill so if you were going to that don't
» There is a bit more waffle onto the Neon Gold weblog
'Youth' is our favourite song so far — it's the single — and Neon Gold just put it up earlier today (link above etc) with some extrabits of press release-friendly info. You can download 'Youth' here by clicking that arrow thing. You can listen to it first if your hard drive is almost full and you don't want to commit without listening.
Now that, unless we are very much mistaken, is a very good song.