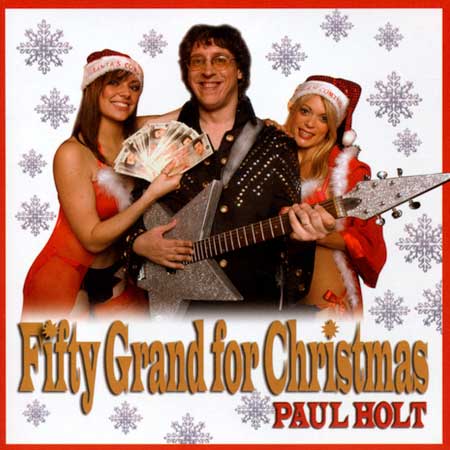 All this "ooh let's get Rage Against The Machine to Number One" business is seriously starting to grate now. Do you know which song would have been better to pick? 2004's 'Fifty Grand For Christmas' by Paul Holt.
In case you've forgotten, when Paul Holt audi­tioned for the first series of The X Factor Simon Cowell told him that if Holt managed to get a Number One single, he'd hand over fifty thousand pounds. So Holt made a song, 'Fifty Grand For Christmas', about the bet. As the lyrics — and this is one of the greatest opening lines in the history of popular song — explain: "Simon says he'll pay the sum of fifty thousand pounds if I get to Number One".
httpv://www.youtube.com/watch?v=1BfSsbiOIBM

There are a few reasons for 'Fifty Grand For Christmas' being a more sub­vers­ive pick than Rage's 'Killing In The Name'.
1. It was released on an inde­pend­ent label which, for people who care about such things, is pre­sum­ably better than being on the same label as all Simon Cowell's X Factor singles.
2. The single only reached Number 35 when it was ori­gin­ally released in 2004, but back then chartable legal downloads weren't quite what they are today. A Number One for the same song in 2009 would prove that, in the last five years, things have fun­da­ment­ally changed and the internet now does have a power it didn't have back then. People power blah blah blah.
3. If it was Number One Simon Cowell would actually have to hand over fifty thousand pounds, which isn't much in the grand scheme of Cowell's bank balance but fifty grand is still fifty grand, and this ghost of five Christmases past coming back to haunt him in 2009 would probably be inter­pretable, if one was so inclined, as some sort of thing about karma or something.
4. Melodically at least, the song is actually brilliant, with the best faux-Wall Of Sound Christmas chorus since Mariah's 'All I Want For Christmas Is You'. We know it's a novelty single and everything but come on, in all ser­i­ous­ness, what a tune, right?
To be clear on this, we're not trying to start a campaign for this to replace the Rage Against The Machine track or anything, but 'Fifty Grand For Christmas' is available on iTunes if you want to invest­ig­ate, and it's clearly the better song here. Finally, just remember, even if it's twenty years from now, no matter where you are in the world, if anyone ever asks you this: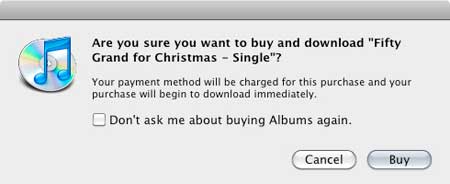 The answer is always yes. Yes, yes yes.