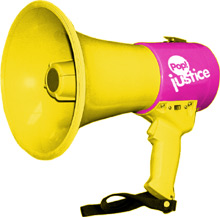 What's being said on the Popjustice forums?
Let's have a little look.
Is anyone making sweeping state­ments about quality of the Roisin Murphy album?
Announces Sweet Music: "I just have a gut feeling the album will be the best of the decade."
Could the career path of Dragonette hold any more surprises?
Exclaims Davahu: "I did buy the picture disk of 'Take It Like a Man' when it came out and was suprised to find it signed."
Is Paris Hilton hoping the critics will approve of her plans to work with Sash!?
Suggests Scandipop: "If it's true then it means that Paris fully under­stands and accepts who her core fanbase are (musically), and that she's com­pletely just not giving a toss about the critics."
Is everyone excited about Madonna having worked with Pharell on her new single?
Squeaks Purple Tentacle: "It's horrid. Oh well…
So there you go.