Before they went on stage last night, Jules from The Presets planned the band's movements very carefully. As you can see here.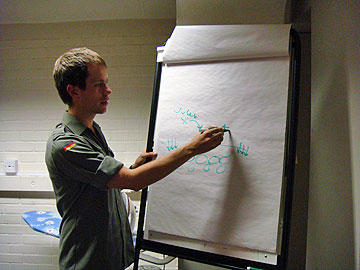 It's this approach to stage­craft — this real attention to detail and ded­ic­a­tion to the art of show­man­ship — which pays off when it comes to the gig itself.
We can't help but feel that if more musicians followed Jules' fine example every gig-going exper­i­ence would be a lot more enjoyable and that bands could therefore charge as much as 20p extra per ticket — very useful in these days of '360 record deals'. For the consumer, proof that the concert had been carefully thought out in advance — perhaps in the form of a generic logo or 'seal of approval' — would represent some sort of guarantee that the concert they were going to see would be worth the expense. Particularly useful as we stand on the brink of recession.
We will have a think about what sort of form this logo/stamp of approval could take — we're thinking something like a Kite Mark — and get back to you. If you have any sug­ges­tions, email them over to the usual address.
In the meantime, why not what the video for 'This Boy's In Love', The Presets' spooky reima­gin­ing of the 'Domino Dancing' video (ie it features some wet boys wrestling — amazing).
httpv://www.youtube.com/watch?v=VNgOuXepPsA

Very good.