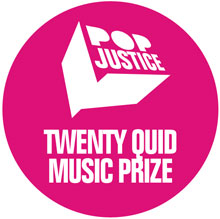 IN ALPHABETICAL ORDER:
'A&E' — Goldfrapp
'About You Now' — Sugababes
'Bleeding Love' — Leona Lewis
'Call The Shots' — Girls Aloud
'Dance Wiv Me' — Dizzee Rascal feat Calvin Harris
'Flux' — Bloc Party
'Money' — Daggers
'That's Not My Name' — The Ting TIngs
'Valerie' — Mark Ronson feat Amy Winehouse
'Ready For The Floor' — Hot Chip
'Song 4 Mutya (Out Of Control)' — Groove Armada feat Mutya Buena
'Stuck On Repeat' — Little Boots

ABOUT THE TWENTY QUID MUSIC PRIZE
Now in its sixth year, the Popjustice Twenty Quid Music Prize recog­nises the year's best British pop single and rewards its creator with a crisp twenty pound note.
JUDGING

Once again, judging will take place in London. This year it well be on Tuesday, September 9. If you would like to be a judge in the 2008 Popjustice Twenty Quid Music Prize, we will be accepting applic­a­tions from next month. We were going to do a microsite this morning but an unpleas­ant hangover put the kybosh on that.