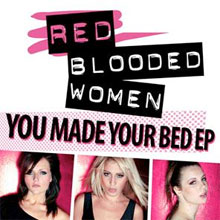 Red Blooded Women are releasing their first single next month — it's 'You Made Your Bed', which we featured as a Song Of The Day a few months ago.
The really quite amazing Rochelle have done a really quite amazing remix. There are some other remixes as well but we have lost the CD and are therefore unable to fill you in on how amazing they are.
To go with the single release Red Blooded Women have made their first video. Well, it's sort of their first — they made one but it was shit so they made another one for £300 and it turned out to be a lot better.
This is what it looks like.
httpv://www.youtube.com/watch?v=v‑TNCm2dYOU

We sat in a pub recently and had a chat with the girls about this and that. Our findings were:
1. They are nice.
2. They are funny.
3. One of them is — and this is not a phrase we throw around often — literally cock crazy. Actually demented.
The End.