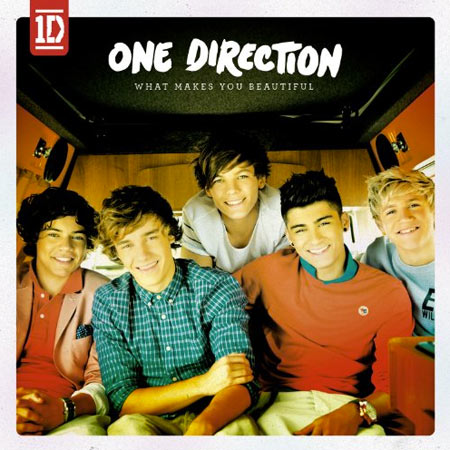 It actually sounds like a boyband single, not like a boyband trying not to sound like a boyband. In fact, it sounds like it might actually have been recorded by some people who could con­ceiv­ably one day have enjoyed hearing a boyband song. A big soppy stupid brilliant American boyband song. Look at the artwork. FIVE SMILES. Despite Zayn's extensive work in the field of Boyband Seriousface during last year's X Factor run there is no Wanted-esque pouting or moody posturing here. It all feels quite relaxed, even if it's obviously been styled and posed and tugged and poked and fiddled to within an inch of its life but that's not the point is it.

[youtube]ib8Bxo8MJ60[/youtube]

It's a song about a girl who doesn't really know how beautiful she is. "When you smile at the ground, it ain't hard to tell, you don't know you're beautiful." Oddly, this sort of behaviour gives One Direction
raging boners. "You don't know you're beautiful," they sing, "but that's
what makes you beautiful." It's a nice sentiment but let's
be honest, it's a song for ugly One Direction fans.

Why is the song so good? Well, without wishing to divert attention away from the impress­ive vocal­skillz of One Direction, the tune was helmed by song­writer, Syco A&R and X Factor wig-botherer Savan Kotecha, but the co-writing and pro­duc­tion credits also include Rami Yacoub and Carl Falk. Carl's fairly impress­ive CV includes Nicole Scherzinger's 'Don't Hold Your Breath' (amazing) but it's Rami's presence on the track that's really exciting, given that he has been partially or largely respons­ible for many of the greatest pop songs of all time. We are not joking. Look at this ridicu­lous list of credits. Bloody hell. Imagine having even been in the room when one of those songs was written, let alone having played a decisive part in the invention of all of them. IMAGINE.

'What Makes You Beautiful' is better than One Direction's version of 'Chasing Cars', but not as good as their versions of 'Total Eclipse Of The Heart' and 'My Life Would Suck Without You', two pop­cul­tural high water marks upon which they may never improve. Let's watch them again now.

[youtube]wtxPIXE_Nrg[/youtube] [youtube]rcrqezVGTug[/youtube]

Extraordinary.

The official three best bits of 'What Makes You Beautiful' are: 1) "Doo-o-oor". 2) "So-o-ong." 3) The hand-clappy bit in the middle eight. But there are more good bits than that. In fact we would go so far as to say there are MANY.

The single artwork's hint of Extreme Chino Overload might have dis­trac­ted your attention from two key points. Firstly, it's good news for fans of the 1D logo we approved of on January 21, because the 1D logo we approved of on January 21 is present and correct. They have managed to get around the 1D/One Direction confusion that gave us night­mares through­out the early months of 2011 by including another logo, this time spelling out 'ONE DIRECTION'. Two logos? That's twice as many t‑shirts. Champagne all round!

Secondly, the way the boys have been arranged on the sleeve is incred­ibly inter­est­ing. You've got the Power Pyramid (see below) in the centre of the photo — this includes two of the band's three most important members, plus one of the others (who would tra­di­tion­ally be outside the Pyramid) in the hope that his placement within the Pyramid will imply that he is important. It's a move that works pretty well. Flanking them are Harry and Niall. They're on the left and right for two very different reasons. Harry is edged off to the left because he is so important to the band that he can afford to give up his position in the Power Pyramid — donate it, in a way — to a band member who would benefit from being tem­por­ar­ily allowed into the Power Pyramid. There's a huge amount of con­fid­ence in Harry's position on the left; it feels, a bit, like modesty, except only with a high left of self-con­fid­ence would someone position them­selves on the outside of the shot. So that explains Harry's placing. And then on the far right, we have Niall. The reason he's been chucked on the end is a bit more simple: he's Niall.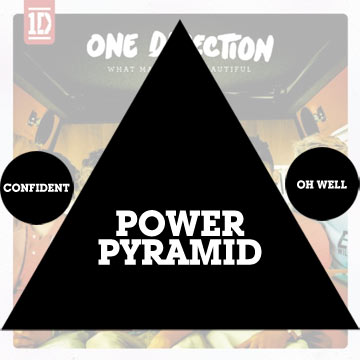 "You got it wrong, to prove I'm right I put it in a song" is one of the best pop lyrics of 2011. We fully approve of the idea that if you sing
something, it becomes unques­tion­ably true. Imagine how much easier all dis­agree­ments will be from this day forward, knowing that all you have to do is sing your argument in order to win. And if someone says to you, "what are you doing with all the singing, that's bollocks", your answer is simple — it's not bollocks, because One Direction put it in a song, so it's right. It's a pop rule that comes with its own proof.

2010: hair whipping. 2011: hair flipping.

And that, we think you will find, is a fair overview of the One Direction single.