Showcase ahoy!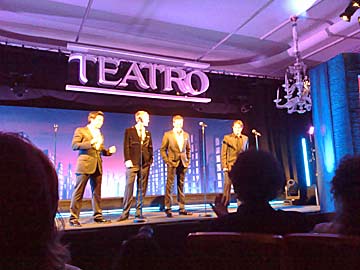 Teatro are billed (by their 'people') as Theatreland's First Supergroup. Basically, Il Divo doing showtunes. In 'let's make a lot of money' terms they seem like a bit of a stroke of genius and because such a huge amount of cash is almost guar­an­teed they pushed the boat out for their showcase and had it in a BALLROOM at a POSH HOTEL.
In the space of twenty minutes they managed to sing songs like 'Don't Cry For Me Argentina' and 'Somewhere Over The Rainbow', also using the phrase "without further ado" a spec­tac­u­lar THREE TIMES. It should also be noted that their disco version of 'Luck Be A Lady' was, perhaps, the gayest thing we have ever seen. And we've seen some gay things in our time.
Because the showcase was at somewhere genuinely posh rather than just somewhere pre­tend­ing to be, the standard of the chan­deliers was extremely high. Like, they were actual proper chan­deliers probably made of GOLD AND DIAMONDS rather than £17.99 Homebase jobs.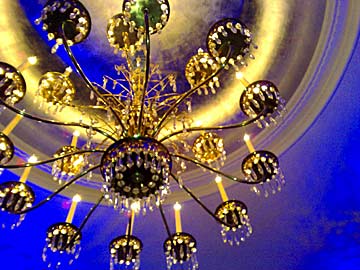 Dorien from Birds Of A Feather and the blonde one from G4 were in attend­ance, as was Christopher Biggins. Here is a pho­to­graph con­tain­ing Biggins AND a chandelier.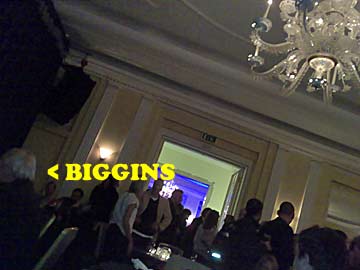 Does life get any better than this?