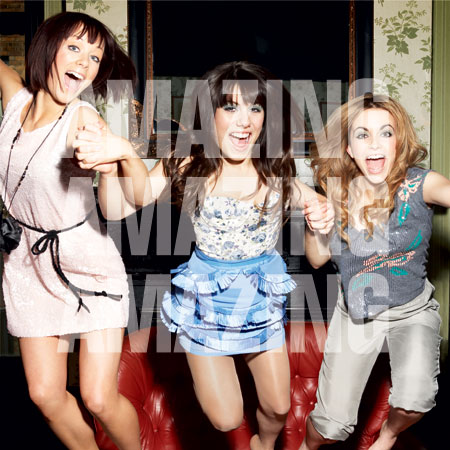 Okay, you may not have a new favourite girlband quite yet but your Top 3 might be looking at a new entry. Say hello to Girls Can't Catch — a threepiece girlband coming out through Fascination, the label who brought you Girls Aloud and The Saturdays.
Their names are (left to right in the picture above) Daizy (CALL THE SPELLING POLICE), Phoebe and Jess. With pictures like this it's always fun to imagine what happened three seconds after the photo was taken as the featured popstars land clumsily on the floor and the fun and laughter turns to tears. An important life lesson there: fun and laughter always turns to tears. Always.
We've heard two of the songs being con­sidered for Girls Can't Catch's first single. You're likely to hear both songs when you see Girls Can't Catch sup­port­ing Girls Aloud on their upcoming arena tour: one song is called 'Keep Your Head Up' and the other is called 'Turn Me Up'.
'Keep Your Head Up'
…is a fizzy, elec­tronic mid-to-uptempo belter. One of the amazing things about 'Keep Your Head Up' is that you think you're listening to the chorus then the actual chorus happens: a brilliant, shoutalong pop moment which contains the advice that you "always have to keep your head up, your head up, your head up, your head up up and no matter what, your head up, your head up, your head up up up up". It is very very hard to imagine that if you like the sort of music
The Saturdays (on a good day) and Girls Aloud make you won't like 'Keep
Your Head Up' — consider the sort of thing you might be hoping The
Saturdays will come back with to launch their second album (stepped up
from the first with a more mature but still very pop sound) and you're
on the right lines.

'Turn Me Up'
…is written by Shaznay Lewis (amazing) and if we were forced at gunpoint to compare it to the output of other current girl­groups we'd say it was quite Sugababesish, although it doesn't sound like anything the Sugababes have done so this com­par­ison is of limited use. SORRY. The chorus is a hypnotic and insanely catchy chant of "gonna be in your head for days, top of your list request to play, boy-oy on your stereo, and I'll be 24/7 across the way…" (and then there are some songwords we couldn't hear properly). It's a sort of 'person as metaphor for pop song' escapade so can perhaps be con­sidered as a distant relative of 'You Spin Me Round (Like A Record)'. This might be a better debut single for the band as it will probably create a bit more of a distance between this lot and the other lot, although 'Keep Your Head Up' is massively excellent as well so at the end of the day, readers, music is once again the winner.
Concerns you might have about this band.
1. Isn't this just another Saturdays?
No. There are three people in Girls Can't Catch and five people in The Saturdays. There is clearly a pattern forming re number of band members. It goes 5 (Girls Aloud), 5 (The Saturdays), 3 (Girls Can't Catch), then another 3 (TBC), then 1, then 1. That will take us up to 2012 when girlbands will be banned by law. It will be a sad day but we will get over it eventually.
2. Isn't this just The Saturdays with three people?
No.
3. I am not sure about the whole 'launching off a Girls Aloud tour' thing.
Yes but you probably thought that about The Saturdays (it's inter­est­ing reading through the very very earliest Saturdays threads on the Popjustice forums) and that ended up alright in the end.
4. Don't I reconise Phoebe from somewhere?
Perhaps.
5. Doesn't this mean there are about 800 bands sup­port­ing Girls Aloud on their tour?
Nearly: Girls Can't Catch join Will & The People (see you in the bar for that bit), Absent Elk, Julian Peretta and someone else.
6. Why are they trying to steal Girls Aloud's fans?
It doesn't really seem like that sort of thing at all. Over the last five or six years the dearth of main­stream pop acts — and the fact that only Sugababes and Girls Aloud have been suc­cess­ful in the girlband arena — has almost forced a situation where pop fans only have one favourite group. What bands like The Saturdays have shown is that it's quite accept­able to enjoy various groups alongside your existing favour­ites. This is handy in the event of one of your favourite bands splitting up — it means you're not suddenly in the situation of not knowing what to buy and acci­dent­ally finding yourself pur­chas­ing bad indie. (This is the voice of exper­i­ence here. Don't worry, we grew out of.)
7. 'GIRLS CAN'T CATCH'??
Yes, well some band names take a bit of getting used to, don't they.
So that's some stuff about Girls Can't Catch. We like them a lot (although we haven't met them yet — they might be bastards) and we think you will like them too. You'll def­in­itely like the tunes.