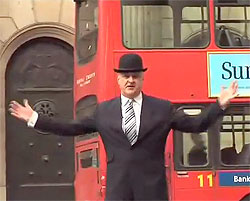 We hate the E4 voiceover man Peter Dickson.
We don't really hate him on The X Factor or the other things he does — "EOGHAN QUIGG!!!!!" was one of 2008's best catch­phrases — but we do hate his 'character' on E4.
We hate the way his character swamps the channel in such a super­cili­ous post­mod­ern pseudo inverse "tellybox" irony, with its mindless "we're showing a load of old rubbish, let's take the piss out of it so nobody can accuse us of showing a load of old rubbish" mentality. It's Miquita snottily laughing at an in-joke with an off screen runner, but with a man shouting.
Here's an idea, E4 — if you think your pro­grammes are rubbish, don't show them. Don't take the piss out of the viewers who do enjoy these shows. Don't do the "so bad it's good" thing, don't do the "we're above all this really" thing. Just tell us what time the programme's on and piss off.
httpv://www.youtube.com/watch?v=qBE5B_fYKaU

'Hilarious.'
ANYWAY in the spirit of doing stuff for cash, Peter Dickson has now made a POP RECORD.
It's about the recession.
It's called 'What A Bunch Of Bankers'.
httpv://www.youtube.com/watch?v=UlyKCOAF16s

What's great about this song isn't just the clever wordplay — 'bankers' sounds a bit like 'wankers' — but the fact that tens of thousands of people are unem­ployed (LOL) and will no doubt be cheered up by this jolly ditty. Well done, everybody.