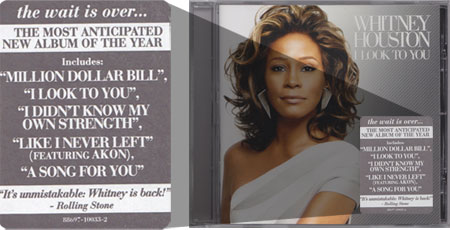 1. Yes, the whole 'the wait is over' business again, brilliant.
2. 'THE MOST ANTICIPATED NEW ALBUM OF THE YEAR'. Is it? IS it? Is it REALLY? It's not is it. It probably seemed like it during the whole recording process, and it's certainly not an unanti­cip­ated release, but it's not the most anti­cip­ated new album of the year, is it? Come on. COME ON.
3. The 'includes' list is ominous. "Includes: THE GOOD BUT UNDERWHELMING COMEBACK SINGLE, SOME BORING ONES (FEATURING AKON) AND THE REALLY BORING ONE THAT PEOPLE THOUGHT MIGHT BE THE COMEBACK SINGLE BUT WASN'T."
4. Yes thank you for that Rolling Stone magazine, do you perhaps have anything slightly less wishy-washy and tryhard-sound­bitey? No? Really? Just want to say something that sounds 'exciting' and 'iconic'? Yeah? Just want to chuck in the phrase "it's unmis­tak­able" as if there could in fact be some confusion about whether or not Whitney was back? As if Whitney Houston's comeback might have taken the form a col­our­less odourless gas whose presence required verifying? Great.
WELL DONE EVERYONE.