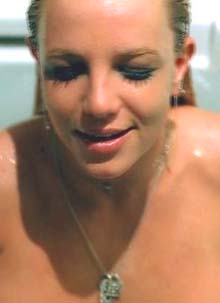 Ignore all those terrible Britney Spears songs wafting around the internet because the new Britney album is going to be pretty good.
We know this because we've heard an actual song from the album, and we don't mean 'Gimme More'.
Here is all we have to you about it.
»
It is called 'State Of Grace' which, as much as we love her, is not something we would ever credit Britney with knowing very much about. But not to worry.
»
We would describe the track as 'under­stated' which, again, is something we would not usually credit Britney with ever being. But by under­stated we do not mean 'half-arsed'. We mean 'subtle and amazing'.
»
There is a bit of an Eastern influence on the track, although less so than Hilary Duff's 'Stranger', which is as good a reference point for songs that have an Indian influence as we could hope to offer.
»
With a bit of rejigging it might have sounded a bit like 'With Every Heartbeat'. As it stands, it doesn't sound much like 'With Every Heartbeat' at all, but it's not a million miles away.
»
The main hook is simply "love is a state of grace between you and I‑e-I-e-I-e-I-e-I-e-I-e-I-e-I-e-I-e-I-e-I-e-I-e-I-e-I-e‑I". Contrary to what you might have just read it doesn't sound much like 'Old MacDonald Had A Farm'.
»
It is not quite a ballad but is quite floaty and very nice indeed.
»
It sounds a lot like a Britney song despite sounding like no other Britney song ever recorded.
So there you go — a solid seven facts about a new Britney song.