Happy St Andrew's Day to all Popjustice readers!! In honour of this great day let's have a look at what some of our favourite Scottish reality popstars are up to.
First up: LEON JACKSON.
Here's a note he's got on his website.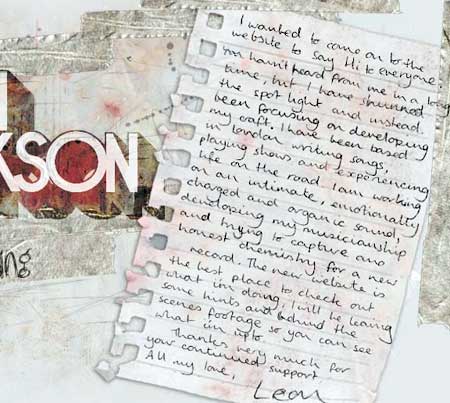 One day we are going to write a book called FUCKED BY POP and it's going to be full of people like Leon. People who didn't neces­sar­ily do anything wrong, really, but somehow ended up being FUCKED BY POP IN CAPITAL LETTERS. Leon's one of those people you really want to exper­i­ence some good luck in life, but you find yourself strug­gling to imagine exactly how this good luck might cross his path. Hopefully this new material will bring him some luck. (Although we can tell you right now that it probably won't.)
Next on the list: DAVID SNEDDON
From the look of his MySpace Sneddo seems to be keeping himself amused with some musical bits and bobs here and there. POP FACT TIME: the last time we saw David Sneddon he had a kazoo in his mouth at a Julian Perretta showcase. True story, readers, you can take that one to the anecdote bank and exchange it for One Million Pounds. In some respects Fame Academy winner Sneddon rep­res­ents a more innocent age of reality pop TV, but then you think about Leon Jackson — whose win was only two years ago — and even Lloyd off this year's X Factor, and you think, well, it could happen again. Sneddon would proabably get a few para­graphs in FUCKED BY POP as well, now we start thinking about it.
And finally: AINSLIE HENDERSON
You will remember Ainslie from Fame Academy. After the show he signed to Mercury and released what seemed at the time to be an incred­ible song called 'Keep Me A Secret'. Let's see if it still seems any good in 2009.
httpv://www.youtube.com/watch?v=HpynQtb5cNg

Yes, it still seems pretty good. At one point after the Mercury thing went tits up Ainslie was in a band called The Last September and sent us over a few of their demos which were pretty good in a wistful indie sort of way. He doesn't seem to be up to very much musically these days but we're not sure if he'd qualify for an entry in FUCKED BY POP because he always seemed fairly on top of things on the few occasions we met him, and he certainly doesn't seem like quite as much of a teary-eyed whiner as Sneddo and Jackson.
Actually, 'Sneddo & Jackson' has something of a ring to it. Could this be the double act the world (where 'world' = 'a handful of mid-sized venues in Scotland') has been waiting for?
No, but it brings us neatly back to Scotland and St Andrew's Day.
Other great Scottish popstars:
McHammer
McSolaar
McEscher (THAT'S ENOUGH THANKS — ED)