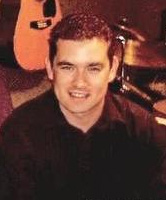 This is the best email we've received in the last seven days.
———- Forwarded message ———-
From: dean maynard
Date: Jun 11, 2006 7:10 PM
Subject: Ghostbuster!
To: [email protected]

My name is Dean Maynard I am 34 years old, based in Newcastle and im widely regarded as one of the countries top Ghosthunters and Ive attached my own arranged, produced and mixed version of Ghostbusters.

** please note I have also got a club version completed ready to release along with this **

Im looking to release the track as a single and ive tested the track via the local media and its gone down a storm.

I have over 5 years exper­i­ence in Investigations, research­ing, guest speaking and media inter­views and this February I was nominated for a Royal Television Award.

I also have loads of friends in the local and national media who will back this track once a label is confirmed.

Please view my website at http://www.deanmaynard.com for more inform­a­tion and please call me for a chat.

Kindest regards

Dean Maynard
Ghost Investigations & Media
http://www.deanmaynard.com
And you really should check out Dean's website. It is amazing.
We have asked him if he has ever spoken to any ghosts of popstars but he has yet to respond.