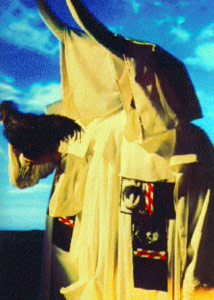 Precisely twenty years ago TODAY, Bill Drummond invented the second-greatest male pop duo of all time: The KLF (also known as The Justified Ancients Of Mu Mu, The Timelords and about a million other things).
Here, appar­ently, is how it happened:
"It was New Year's Day 1987. I was going for a walk in the morning and I thought, "I'm going to make a hip-hop record. Who can I make a hip-hop record with?". I phoned Jimmy up that day and said, "let's form a band called The Justified Ancients of Mu Mu". Within a week we had recorded our first single."
A few years ago a nice journ­al­ist man, who had been com­mis­sioned by Bill and Jimmy to write the defin­it­ive KLF book, took us to lunch and told us that Jimmy had been in the studio working on new versions of old KLF tracks, as well as some new material in the same vein. Maybe Jimmy should consider 'getting on with it', perhaps getting Xenomania on the phone, and releasing it. Don't you think?
In the meantime, if you have forgotten how amazing The KLF were — or if you have never even heard of them before — the following YouTube links should set things straight…
» The 'America: What Time Is Love?' video.
» An extract from their unre­leased motion picture 'The White Room'
» Performing 'What Time Is Love?' at a 1989 rave in Chipping Norton, showering ravers with cash.
» Their cover of Stevie Wonder's 'Uptight' — not exactly a career highlight.
» '3am Eternal' at the Brits 1992, featuring Extreme Noise Terror.
» The 'It's Grim Up North' video.
» 'Last Train To Trancentral' on Top Of The Pops.
» 'The Rites Of Mu' — the world's media taken onto a remote Scottish island and forced to dance around in yellow robes.
» The KLF in the studio in 1991, working on 'The Sheriff' — a track which didn't make it onto the 'White Room' album. "When I say make noises don't just make noises."
» The utterly hilarious video for 'Love Is War' by Brilliant — Jimmy's PWL-produced band.
» A BBC doc­u­ment­ary about burning a million quid.
'Blimey'.