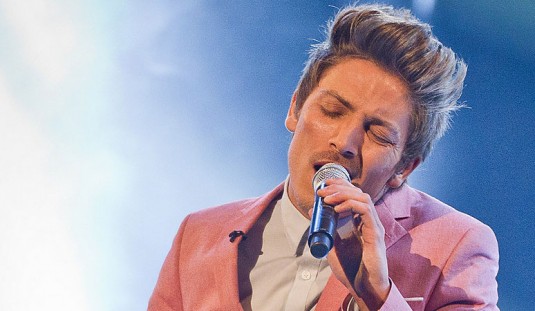 Look, The Voice has been an embar­rass­ment of a fiasco of a shitshow from week one but you all know as well as we do that whichever person wins the show is going to be pushed in our faces by Universal for at least one single so we might as well make sure it's as bearable as possible.
And that is why we are saying that Tyler James should win and you should vote for him tonight.
We first met Tyler in 2001. We were in Ayia Napa to meet the singers fronting 'Wilder', a song being put out by Stargate (when they were still Richard Blackwood's producers and Rihanna-sized success was some time off). It wasn't long into the interview before it became clear that Tyler was a pop obsessive just like most the best people we knew. We'd received a promo CD of *NSYNC's 'Celebrity' album just before leaving for the interview and we played some songs to Tyler, whose pop brain seemed so elec­tri­fied by what he was hearing that he looked like his face was about to fly off.
We met or bumped into Tyler a few times after that. On one partially-memorable occasion we were in the Rizla tent at Glastonbury at 3am in the early hours of Saturday and he wandered in, covered head to toe in mud. He seemed quite refreshed. How long have you been on site, we asked him. From the state of him we were expecting an answer like "since Thursday". His response: "Three hours."
He even­tu­ally signed a deal with Island and released a single. We loved it.
When he shot video for its successor he invited us along to the shoot to say hello. It was being shot in some studio in the arse-end of nowhere but we had nothing better to do so popped over for a couple of hours. It was the same as all video shoots, ie quite boring, but it was good to see him getting on with the business of being a popstar because even in 2005 it seemed like it had all taken a bit longer than it should have done.
One of his friends, dancing around to the music with a glass of wine in her hand, came to say hello to us while Tyler was shooting one of the scenes, and we said we'd just come to stick our heads in for a bit. "Well you must be a good friend," she remarked, ref­er­en­cing the crap location of the shoot, and then she toddled off again. It was a fair assump­tion, but really we were just there to see someone whose popstar cre­den­tials we'd never doubted finally do the sort of thing popstars so.
Things didn't go exactly to plan for the release of 'Foolish' and Tyler was 'sans contract' not long after­wards, and we kind of lost touch a bit after that. We did bump into him at Glastonbury in 2010, though, at the bar. He wasn't covered in mud this time. "I'm in love!" he announced, which struck us as good news, because if people can't make it as popstars it's nice if they can at least find someone who makes them happy.
This has been a bit more long-winded than it needed to be but all we really wanted to say is that when we first met Tyler eleven years ago we knew he felt like a huge popstar in the making. Perhaps he just needed the right sort of platform, and while The Voice hasn't exactly been a raging success for anyone except Jessie J's hair­styl­ist it would be good if at least something good could come out of it, and maybe that something good should be an amazing popstar — who just so happens to have a great voice — romping to victory.
Try to erase all memory of the 'Bohemian Rhapsody' per­form­ance and voting will be a lot easier. Incidentally: obviously every time there's a final of one of these shows people say "your vote counts" and "you really decide who wins" and all that sort of shit, but the good thing is that Voice ratings being as they are, phoning up twice for Tyler could actually double his total votes, and with four votes he could probably win the whole fucking thing so maybe on this occasion it actually is worth calling up.
We'll need to have a chat with him about the height of his hair if he does win, though.
EDIT: Also, we said right at the start of this whole sorry mess that it would be amazing and a bit funny if after all the bleating about it being "all about the voice", the winner turned out to be eye-blis­ter­ingly fit. Well Tyler did not exactly fall off the back of the ugly lorry, did he.