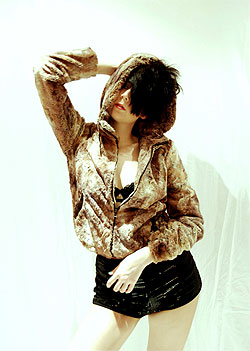 We have followed the fortunes and enjoyed the music of The Good Natured for many years (here's a Song Of The Day from 2008) but recently began to fear that she would never find herself with a proper record deal and might therefore never go to 'the next level' as 'an artist'.
Well there is good news because she has, indeed, found herself signed to a proper record label — Parlophone, since you ask — and the next level is very much in sight. On the basis of the first music to emerge from this deal, that next level is one presently occupied by jogging clipboard-botherer Ellie Goulding. There are, of course, worse levels to be on, and The Good Natured still sounds like The Good Natured so it is quite literally 'all good'.
That new song is called 'Wolves' — a good move because there are def­in­itely too few songs and/or artists men­tion­ing wolves at the moment — and it's a rather splendid little ditty.
Here is what Sarah has to say about the song:
"In every society, we find people who are bored with their daily routines, getting up, going to work, and coming home again. 'Wolves' is about escapism, leaving the mundane normality of every day life and entering a new world, whether it be a fantasy or a reality."
In other words: don't be surprised if there is a triangle or a unicorn in the video.
THIS IS THE SONG.
That was the song.
It's out in June as part of an EP. EPs are very in fashion at the moment, aren't they? Mind you Wonderland have released one and they're very clearly the actual opposite of 'fashion' so we really don't know what to make of the whole thing.
Further reading:
» The Good Natured on Facebook.
» The Good Natured on Twitter.
» She also has a MySpace here but we haven't been on it recently to check its contents because every time we go on MySpace at the moment it doesn't just crash our browser but, amazingly, makes our entire computer hang, requiring a reboot, so that's the end of MySpace for us, unfortunately.