The all-con­quer­ing amaz­ing­ness of the Jordin Sparks single has ripped a hole in space and time and sent tomorrow's Popjustice Song Of The Day hurtling forward a few hours: here's 'Box N Locks' by Popjustice Almighty reigning champion Mpho (pro­nounced like 'MMMBop' but with 'po' at the end).
httpv://www.youtube.com/watch?v=unlcLj5mk4o

We've had the album on regular rotation* for the last month or so and it's quite an incred­ible piece of work.
Other data:
» Mpho looks like this. She is basically not ugly.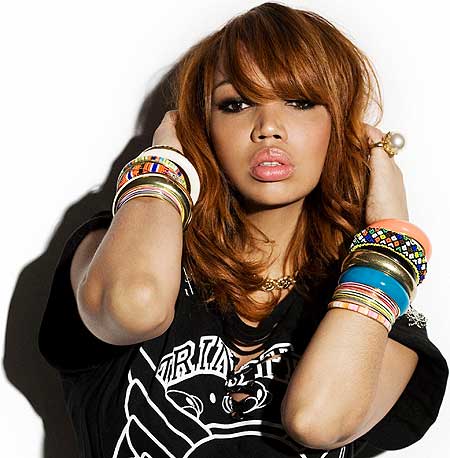 » Mpho's album is called 'Pop Art', putting it in the Top 2 Parlophone albums this century to have been called 'Pop Art'.
» You can download one of those 'album minimix' things from this place — you need to put your details in but this is a rare instance of it actually being worth the hassle (and you can unsub­scribe after­wards, one presumes): http://links.emi.com/mpho/signup.
» That 'Box N Locks' single is out on July 13, with another single ('See Me Now' — it's about being in a doctor's waiting room and the crumbling NHS) (it's not really) on October 12 and the album, finally, on October 19. It's funny thinking now, before summer has even started, about what will be happening in the middle of October. Where will you be in October? Where will any of us be in October? Will you be rich? No. Will you be happy? Frankly, probably not — you're going to have a terrible summer, and as the nights draw in it's just going to get worse. But as you sit alone in the unheated single room you might never have expected, back in May, you'd ever find yourself in, you wil at least be able to listen to the Mpho album on your iPod. Except actually you will not be able to listen to your iPod at all because last Thursday you had to sell your iPod to Cash Converters, and you spent the £23 they gave you on food. That 'uni­ver­sity education' isn't helping you much now, is it? Not now you have nothing and nobody. You cannot remember the last time you smiled.
» Mpho has got a properly amazing logo of which we are quite jealous: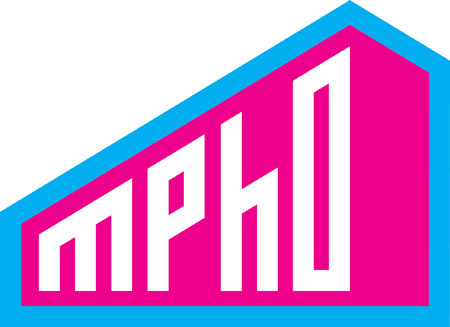 » Mpho has got a MySpace and it has got some tunes and other stuff on it. The web address: www.myspace.com/mphosounds.
» Here is a paragraph we have literally copied and pasted from Mpho's biography.
'Pop Art' is the creation of genre–defying singer, song­writer and producer, MPHO. It's a straight-up pop record and has been a full and varied lifetime in the making," There's a lot to talk about with me," says Mpho with a sly grin to emphasise the degree of under­state­ment. But one thing she takes as seriously as her music is making sure listeners get a strong idea of who she is and what she is all about. From sizzling sum­mer­time electro-pop with soaring hooks ('Paranoid Type') and fun high-energy dance music with a chorus catch­phrase ready to infect the nation's play­grounds ('Fix Ya Face') to rumin­at­ive, lushly orches­trated, rain-on-the-win­dowpane feel-better-soon ballads ('Man Who Got Away') and unpre­ten­tious, unapo­lo­getic '80s revamps ('Box n Locks'), Mpho's debut has got it all. The record is suffused with the anything- goes aesthetic of OutKast, the instinct­ive bravura risk-taking of Prince, the dayglo colours and effer­ves­cence of TLC and the your- record-col­lec­tion-and-the-kitchen-sink approach to musical history of De La Soul's 3 Feet High and Rising, but is still proudly and undeni­ably poppy. You could try to pigeon­hole it post-modern dance, post-urban funk or new school soul — but Mpho has already come up with the perfect label for it. Just call it Pop Art — pop music with soph­ist­ic­a­tion, sass and subtlety.
(It continues in that sort of vein.)
Basically she's amazing and she's got at least three amazing songs so there you go.
* It hasn't been rotating at all, this is 2009 not the late 1950s**.
** With apologies to those respons­ible for the very delib­er­ately nostalgic video clip above.