Well, for a start let's have a look at it.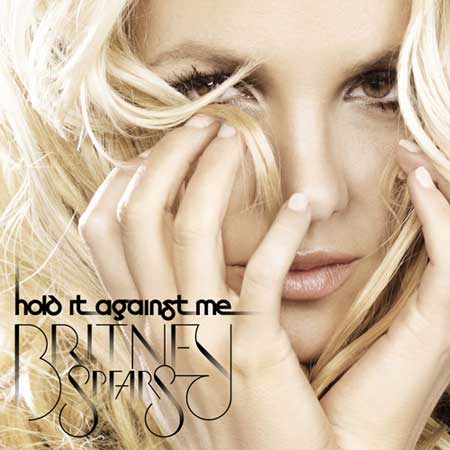 Our findings, in no par­tic­u­lar order:
3. We are about to enter yet another pro­mo­tional phase in which Britney is forced to go about her business with an extremely bad logo in tow. This time round there seems to be some sort of dodgy art deco thing going on.
2. Britney Spears — for it is she! — has, in her time, looked worse. Mind you this picture might not be as recent as we think. It could just be a pho­to­graph that was knocking around. But why would they do that? Well, there are plenty of reasons why an old pho­to­graph might be used. Mind you there are plenty of reasons for a new pho­to­graph to be taken. Basically she looks the same as she usually does except when she doesn't look as good as she usually does.
1. She still has 'come to bed' eyes, although these days they are a bit more 'come to bed and bring a cup of tea, I'm parched and am too busy playing Angry Birds on my iPad to get up and put the kettle on'.
5. HAIR. We don't think there'd any way we can get around the fact this this hair is DEFINITELY 'tousled'. Fan of tousled hair? WHO ISN'T?!?!?! (?)
4. She def­in­itely still has six fingers. Perhaps the presence or absence of other fingers and thumbs is 'TBC' during the campaign. Maybe Britney could come up with a fas­cin­at­ing 'n' inter­act­ive way of involving her fans, revealing her remaining fingers one by one via a com­plic­ated social media mechanism.
And that is that.
EDIT: Calm down, People Of The Internet: it is a new photo. It's by Randee St Nicholas.