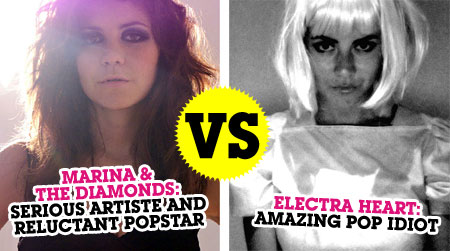 You will by now be aware of Marina & The Diamonds' whole 'Electra Heart' concept thing.
In a nutshell, some (but not all) of the new Marina material — Marinaterial if you will — and the videos around it fre­quently immerse the listener in the world of a shiny plastic popstar called Electra Heart. And there are lots of question marks (for Marina herself, as well as for fans) about where Marina starts and Electra ends, and whether Electra is Marina pro­ject­ing, or whether Electra is Marina reacting to (or showing the possible con­sequences of) the demands that are placed on Marina As An Artiste. In short, Electra Heart is a brilliant pop idiot.
Thing is, if you want to be snooty about something you're on far more solid ground if you can show that you are quite capable of doing it but simply choose not to. In fact, for the whole thing to work properly, rather than simply being the subject of some Marina & The Diamonds songs, Electra Heart needs to make some music.
Electra's debut single should be released next year, on the same day as the big lead Marina & The Diamonds single. Though Electra is in some senses a crap (/brilliant) popstar her music should not be crap — as far as we under­stand it Electra is the sort of popstar who is carried along by a talented team of producers and pop alchem­ists, so it's fair to assume the singles would be pretty great. It must be full-on, high octane lunatic pop music. It should sound like a com­bin­a­tion of THIS and THIS and THIS (with some sort of stupid trend­chas­ing-but-a-bit-late dubstep breakdown) and the video — because there has to be a video — must look like THIS and THIS and THIS.
Electra's single will be promoted by Marina — in costume and in character — just as aggress­ively as the proper Marina & The Diamonds single. This is, to all intents and purposes, the launch of a new artist. In fact, why not do a fake buzz single before Christmas and get Electra in a few of the Tips For 2012 lists? Electra will have her own Twitter account, her own club PA tour, her own crappy endorse­ment deal with Claire's Accessories. Everyone will know that Electra Heart is Marina, of course. But everyone will play along, just like they pretended Gorillaz wasn't just Damon Albarn having a big old wank, because the whole thing is so brilliant. The character of Electra should be every bit as vapid and offens­ively dull as you'd expect from this sort of popstar. You would expect that the two would probably get into a Digital Spy-friendly 'war of words' during their single campaigns, resulting in a full on chart battle on the day of release. There would, one assumes, be a high profile magazine cover in which the feuding stars meet each other.
During the course of the promotion Electra can do all the things that Marina herself really wants to do but won't allow herself to do because she isn't sure how she could carry it off in the semi-hipster circles she and her music inhabit.
Ideally, the bonus disc on the deluxe edition of the Marina & The Diamonds album will in fact be an eight track Electra Heart mini-album. After its release Marina can continue on with whatever she is doing while Electra can go into rehab and quit pop to focus on her acting career or something along those lines.
Yes?
Yes.