We thought the new Sugababes album 'Catfights & Spotlights' would have been given the full-on review treatment elsewhere by now but appar­ently it hasn't so here is a review. Firstly — because one of the only ways of finding out how much someone really likes a track is to look at the star ratings they've given songs on their personal iTunes playlists — this is how we've got to grips with the 'LP' over the last few weeks.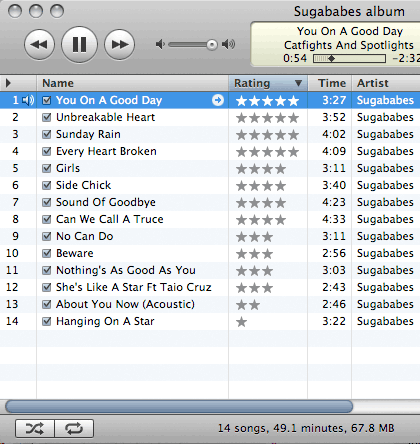 Secondly: if you want an album full of holes in heads, dresses red in colour, or buttons being pushed, you'll need to readjust your expect­a­tions. But if you go into 'Catfights & Spotlights' expecting top-of-form ballads and soulful mid-tempo numbers in the vein of 'One Touch', you're in for a treat. Sugababes have a great repu­ta­tion for their upbeat numbers, of course, and it feels odd to have a Sugababes album without any decent ones, but their repu­ta­tion is just as strong for heartstop­ping moments like this, and there are plenty on 'Catfights & Spotlights'. So while the only properly upbeat track is 'Hanging On A Star', which
ranks as not only the worst song Sugababes have ever recorded but also
the worst piece of music of the 21st century*, this is the most
'complete' Sugababes album since their first.
A brief track by track guide to best lyrics:
'You On A Good Day': "You're messed up from your chro­mo­somes to your enzymes, remember that time when you took my ride? I had to get it from the impound, my favourite rims were gone and later when I asked about it you just said 'yeah'. But then at least you didn't crash and you had some cash left from selling my rims in the carpark behind the bar… And baby that's you on a good day"
'Unbreakable Heart': "I'm not trying to tell you nothing about right and wrong — it's a whisper and it's grown into a song"
'Sunday Rain': "Standing on the platform waiting for the train, watching the weather change. I'm seeing shades of grey. They say love's a many splend­oured thing… We made a mess of everything. It's left me wondering if it's just a picture postcard sent to teach you some place you're never gonna go, never gonna know. You give all your heart and get nothing to show. Days turn to nights and the nights never end, you break my heart then I break yours, that's how it goes, it goes over and over"
'Every Heart Broken': "Boy 2 had done a law degree, he charged me with a felony, I stole his heart and plead insanity"
'Girls': "WHOAAAAH OH"
'Side Chick': "If your want a sly chick, on-the-side chick, it's not you and I boy — you better get your head checked"
'Sound Of Goodbye': "There's no easy way to break somebody's heart when you know what you're gonna say will leave a mark — but I've tried, and I've tried, and I've tried, to no end"
'Can We Call A Truce': "I wrote a list of demands, but I left it at a friend's"
'No Can Do': "If you really wanted my love so des­per­ately then you should've taken time and tried to rescue me"
'Beware': "In the event that we should meet, I recommend you cross the street"
'Nothing's As Good As You': "Love the way you're making me feel — so alive, so good, so real — and I know at the end of the day I will never be the same"
'Hanging On A Star': "I've got a little crush, your body's such a rush"
In terms of the tedious and seemingly endless non-battle between Sugababes and Girls Aloud, this album and Girls Aloud's new one take each band even further in different dir­ec­tions. There was a point a couple of years ago when both bands could have recorded each other's singles, but that problem no longer exists. We could probably do some sort of graph or flow chart at this point but you probably get the idea and we've got a Jason Donovan interview to tran­scribe so we will leave it to your imaginations.
One thing we said when we mentioned a few album tracks a couple of months ago was that 'Girls', the lead single, is a red herring, and we stand by that — it's an enjoyable 'romp' but also a quick, attention-grabbing fix which soon loses its appeal. The best tracks on the rest of the album are immensely rewarding over repeat listens and, as long as you can cope for 50 minutes without the distant clank of Xenomania's kitchen sink, it's VERY AMAZING.
* Perhaps it's not quite as bad as Nickelback's 'Rockstar', but it's offi­cially 'not exactly very good'.