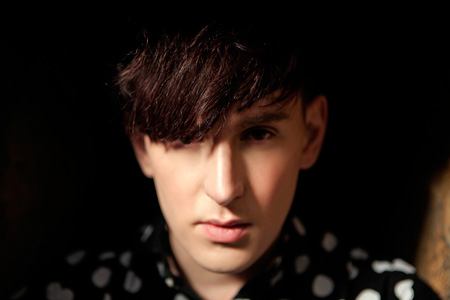 Yes. Yes it is very 'any good' indeed. It's called 'Time Of My Life' and it lasts for four amazing minutes and nine amazing seconds. It is dramatic and romantic and we love it.
The song contains:

1. Loadsastrings, many of which appear in an amazing thirty second intro
2. Handclaps
3. Patrick doing proper singing not that scary shouting business he sometimes does
4. A tune your mum will like
5. Piano
6. Fantastic drums
7. A pensive 'n' dramatic middle eight
It seems to be a song about being happy without someone (the chorus is, er, "happy without you oh, happy without you oh, happy without you oh, happy without you oh, happy without you oh, happy without you oh, happy without you oh, happy without you oh") or more, precisely, looking forward to a point when you are happy without someone — in the bridge to the chorus Patrick sings "I tell myself to hold on, won't be long til I grow up through this
struggle, time to wake up, find the muscle". So what we really have here is not a song that is simply optim­istic. Rather, it is a song which is blindly, des­per­ately and pathet­ic­ally optim­istic, ie com­pletely depress­ing. Amazing.
'Time Of My Life' sounds like loads of things we have always loved about Patrick's music but it sounds like some new things too. There is a new feeling of con­fid­ence in this song's sim­pli­city — it's a con­fid­ence we first heard hints of in parts of 'The Magic Position' — and in Patrick's will­ing­ness to allow classic pop song­writ­ing (for that is what we have here) room to breathe.
There is an instru­mental version too which we keep acci­dent­ally listening to because it was imported imme­di­ately after the proper version in our iTunes. As songs without singing on go it is v pleasant but we prefer the warbly version which is probably just as well as that is the proper radio version. In fact here is the CD if you like looking at CDs.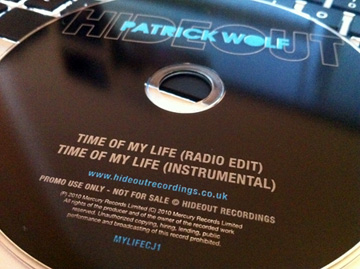 What we would like you The Reader to take away from all this is that the new Patrick Wolf single is a triumph and maybe even something of a career high. Hurrah.
Here, in case you like that sort of thing, is the press release.

PATRICK WOLF RETURNS WITH A BRAND NEW SINGLE "TIME OF MY LIFE" ON
BRAND NEW LABEL HIDEOUT RECORDINGS AND ANNOUNCES LIVE SHOWS WHICH
INCLUDE A GIG AT LONDON'S BLOOMSBURY BALLROOM ON DECEMBER 7.
HIS NEW ALBUM WILL BE RELEASED IN MAY 2011, PRECEDED BY A SECOND
SINGLE IN MARCH.
"Britain's most innov­at­ive, radical and creative pop star"
The Observer
The amazing PATRICK WOLF returns on December 6 with a brand new single
"Time Of My Life", released on a brand new label, Hideout Recordings.
On December 7, the day after the single release, he will play a show at
London's Bloomsbury Ballroom where he will showcase material from his
forth­com­ing album along with a selection of classic material from his
previous records.
"Time Of My Life" will be available in a very limited edition 7" vinyl, a
precursor to the full CD/download release of a second single in March
2011, followed by Patrick's brand new album in May. The 7" will also
feature a cover of the Leonard Cohen track 'Anthem' on the B side.
The single and album were produced and written by Patrick Wolf and
feature strings recorded at Air Studios.
Further details on the album will be announced shortly.
Discussing the first single, Patrick says: " 'Time Of My Life' is a song
that I began writing at the end of a rela­tion­ship in 2006 and then
finished three years later during a temporary break up in my current
rela­tion­ship. The new album has a direct narrative about love and
optimism surviving through adversity and recession. I wanted to
celebrate the love and hope I have found in the last few years."
Tickets are now on sale for Patrick's London show at the Bloomsbury
Ballroom on Dec 7th. Patrick will also be playing two warm up shows
before London, on December 5 at Cardiff Club Ifor Bach and on December 6
at Guildford Boiler Room.
5th December – Cardiff Club Ifor Bach (www.seetickets.com/box 02920 232
199)
6th December – Guildford Boileroom (www.wegottickets.com/theboileroom
01483 44 00 22)
7th December – London Bloomsbury Ballroom (www.livenation.co.uk )
Tickets available 1st November to O2 priority customers, general sale
9am Wednesday 3rd November.
Patrick is the very first signing to Hideout Recordings, a new label set
up by Keith Wozencroft and Dan Keeling, which operates as a joint
venture with Mercury/Universal Records.

For more inform­a­tion about Patrick see the newly re-launched
www.patrickwolf.com.
www.patrickwolf.com
www.hideoutrecordings.co.uk