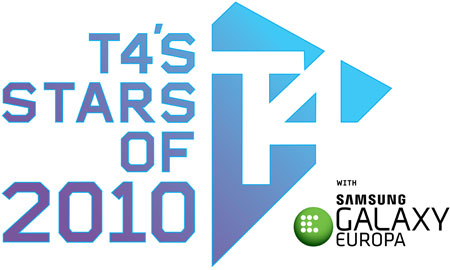 Life throws up very few unadul­ter­ated pleasures but following extensive research spanning four decades we have iden­ti­fied that three such pleasures are:
1. Free stuff like for example an amazing looking new mobile handset.
2. Being closer to popstars than popstars would really prefer.
3. Seeing popstars a‑warble their tunes upon a stage in 'the gig envir­on­ment', even if 'the concert' envir­on­ment is a bit more 'on brand' for most of the amazing pop artistes on whose wares you most regularly spend money.
What follows is a rather lengthy but amazing-in-various-ways sponsored com­pet­i­tion double whammy which could bring all those above-mentioned pleasures into your life.
You can enter one com­pet­i­tion or both or, if you prefer, neither.
COMPETITION ONE:
Win a really quite good Samsung Galaxy Europa phone plus Golden Circle tickets for T4's upcoming Stars Of 2010 event.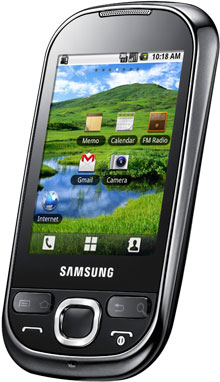 As you will no doubt know by now T4's Stars Of 2010 is happening later this month. It's basically an excuse for a massive pop show with acts like Alexandra and Pixie and Tinie and The Wanted. The Script are there too but don't let that put you off.
Golden Circle tickets are the money-can't‑buy, right-down-the-front tickets reserved for com­pet­i­tion winners like (poten­tially) you and, let's be honest, the over­priv­ileged offspring of corporate sponsors. But they're mainly for you and we've got a pair of those tickets plus a Samsung Galaxy Europa handset to give away to one Popjustice reader.
To enter: On Twitter, send a pho­to­graph or drawing of a telephone to @popjustice and include the hashtag #T4CHATSTAR. You've got until the end of The X Factor on Saturday night to get your entry over; one entry will then be picked at random.
What is 'T4CHATSTAR'? Read on…
COMPETITION TWO:
Become the 'Chatstar' and win tickets (plus cash, travel and accom­mod­a­tion) to loads of Stars Of 2010 acts' own live events through­out 2011.

Basically, T4 are after a 'social media reporter' — someone to update, Tweet, post, blog and generally be all over the place in the name of T4. They're calling this search Chatstar and the Twitter account for that is @T4Chatstar. If you win it you get to go to loads of concerts through­out 2011, and you'll also get a travel allowance, spending money and accom­mod­a­tion for each event.
To enter: Click here, register, and get on with it. What will basically happen is that they will be on the lookout for people who are amazing and innov­at­ive and funny and etc etc via their normal social media channels on Facebook, Twitter and so on, then five of the best entrants will be hand­picked to go live on air on T4. YOU MIGHT GET TO TOUCH NICK GRIMSHAW (this is not part of the prize). That'll whittle it down to two finalists, both of whom will be chal­lenged to battle it out at the Stars Of 2010 event, and the overall winner will be announced live on stage at the actual event. You've got until midnight on Sunday, November 7, and obviously the sooner you sign up and start sticking your oar in all over the internet the more chance you have of making an impres­sion.