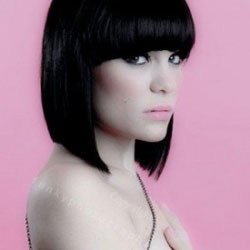 1. She is good at sitting down.
2. We might find Jessie saying that breaking her foot gives her different respect for people who don't have legs ridicu­lous in the extreme, but that sort of thing will be great on TV.
3. She will be able to give some amazing ser­i­ous­face bon mot action when booting people off.
Jessie: "It's okay not to be okay!"
Contestant: "So am I still in the show then?"
Jessie: "Well no."
Contestant: "That's not really okay is it."
4. She can actually sing quite well you know, not that you'd guess from the I AM SINGING AND I WANT THE TREMORS TO KNOCK THE EARTH OF ITS AXIS vocal style she so subtly employs.

5. To most people Jessie, just like Fearne Cotton, is not seen as a complete idiot. People actually like her. The girls want to be her, the girls want to be
with her, etc etc.

6. It's not about the money money money. But it's a little bit about the profile profile profile.
On Twitter earlier today we said that Miranda Cooper, Willl Young and Darcus Beese would also be great judges on The Voice. Having con­sidered it further we would like to add Phil Collins, Marina & The Diamonds, Noel Gallagher, Harvey Goldsmith and Rozalla to that list.