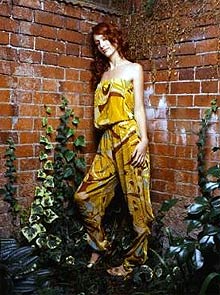 Here is Siobhan Donaghy standing in the corner of her back garden. We do not know what she is doing there or how long she has been there, but there she is. It looks a bit like people have been throwing bags of flour at her. We hope she is not being bullied.
Siobhan has another new song called 'Ghosts' on her MySpace. It is spooky and brilliant. You can listen to it here.
But what will she do with the song? Let's ask Siobhan.
"We're going to release 'Ghosts' as a little 7" vinyl with remixes this month and then 'Don't Give It Up' in January. Album is on our schedules for March. And about bloody time too I say."
Truly, viewers, there is nothing more amazing in the world of pop than the release of a little 7" vinyl by an artist signed to a label who would ordin­ar­ily release things on CD.
It says 'boutique'. It says 'col­lect­able'. It says 'soft launch'. It says 'can you send us an MP3 because our record player has been broken for over TWO YEARS and we have no plans to get it fixed'.