RCA Records: legendary home of a bequiffed rock 'n' roll icon whose boundary-breaking tunes and hip-swiv­el­ling pop persona entranced millions.
Rick Astley wasn't at the RCA relaunch party last night (DO YOU SEE WHAT WE DID THERE), but Shayne Ward walked past us and stood by the men's toilets, Lee Ryan came and said hello, and we had to ask the large one from G4 to get out of the way because he was blocking our path. Oh, and Jamie Foxx did a little showcase gig thing.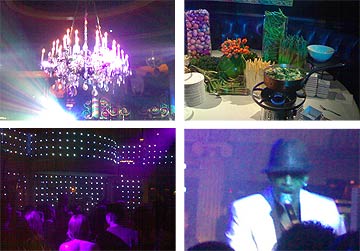 Clockwise, as they say, from top left:
A chan­dalier. The relaunch took place at London's 'swish' Cafe De Paris (not a cafe, not in Paris, etc). Apparently it was supposed to be 'red carpet glamour' but nobody told us anything about this so we turned up in tra­di­tional showcase uniform of 'jeans' and 'bag over shoulder'.
Some food. Although the event was crim­in­ally devoid of miniature ham­burgers (we almost turned around and left when this terrible truth came to light) there were PROPER CHEFS making PROPER FOOD. Popjustice res­taur­ant review: it was quite nice.
A stage. This stage was used for Jamie Foxx. About ten minutes before Mr Foxx arrived on stage, a public address boomed through the venue demanding that ladies in the audience moved to the front, by special personal request of Jamie Foxx. Unbelievably, quite a few ladies did indeed rush to the front of the stage, prompting our female companion to note that "girls are so fucking stupid".
Jamie Foxx. What a terribly shot picture. Anyway, in a set which seemed to last for eight hours Foxx made the novel decision to perform 'Slow Jamz' without the tune, pulled a 'fan' from the audience and made lots of comments about basically wanting to molest her, pulled another (not skinny) fan from the audience and started banging on about "all the full figured girls" in the audience (thanks chum), and sang a song whose main lyrical hook was the christ-on-a-bike-tacular "can I kiss your lips, can I kiss your lips between your hips". That's right, viewers — he's talking about a lady's cunt.
Actually that wasn't clockwise, was it? Never mind. Let's have a look at the punters who were there last night.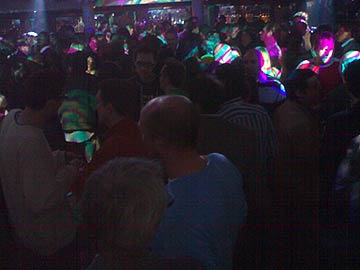 But who are these people?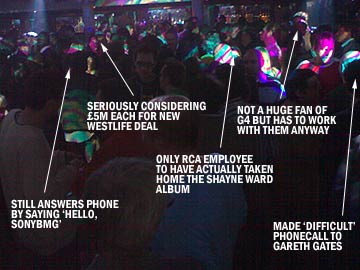 Fancy that!